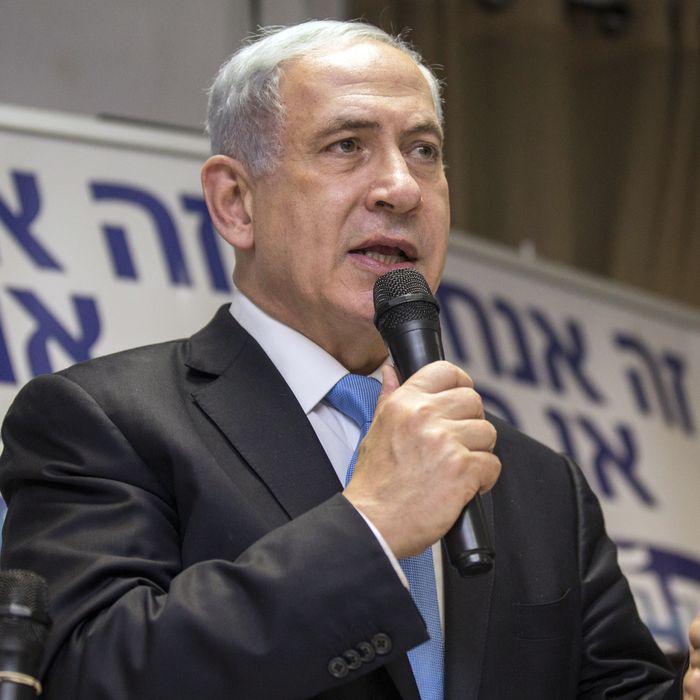 Netanyahu delivers a speech during a campaign meeting with members of Israel's French Jewish community on March 10, 2015 in Netanya.
Photo: JACK GUEZ/AFP/Getty Images
Benjamin Netanyahu has served as Israel's prime minister for the past six years (plus another three in the '90s), and during the last election in 2013, there was no doubt that he would be reelected. Yet now, as he faces another election on Tuesday, there is "a real danger" that he might lose — according to Netanyahu himself. The prime minister made the comment at an election rally in Tel Aviv on Tuesday, according to Reuters, and a day earlier he told Likud Party activists, "it is a very tight race. Nothing is guaranteed because there is a huge, worldwide effort to topple the Likud government."
Clearly Netanyahu's aim was to convince voters that it's important they turn out on March 17, but it's true that his reelection prospects are less certain this time around. The prime minister's controversial speech before the U.S. Congress last week failed to give him a significant bump in the polls, and right-wing Likud is in a dead heat with center-left Zionist Union. (Israelis vote for parties, not individual candidates.) A Knesset Channel poll released Tuesday gave the Zionist Union a 24-to-21 seat lead over Netanyahu's party.
As Haaretz explained, the poll suggests that Isaac Herzog of the Labor Party (who joined with Tzipi Livni of Hatnua to form the Zionist Union) could have the support of 56 members of the Knesset, Israel's parliament. That's one more than Netanyahu has, which would make Herzog better positioned to form a governing coalition. Herzog and Livni announced in December that if they manage to win, they will rotate the premiership, with Herzog serving the first two years before letting Livni take over.
Herzog is descended from political royalty — he's the grandson of Israel's first Ashkenazi chief rabbi and the son of its sixth president — but many see him as nerdy and lacking in charisma. Despite his efforts to battle that image (including "two months of work with a voice trainer to avoid the squeakiness sometimes caused by his allergies," according to the New York Times), many pundits say the election is mainly about the Israelis' opinion of Netanyahu.
While Israeli voters are increasingly leaning toward the right, many have grown weary of Netanyahu. Critics say his policies have hurt Israel's economy and worry that his aggressive approach to foreign policy has actually made Israel less safe. Last Saturday tens of thousands of people gathered in Tel Aviv's Rabin Square to call for new leadership at a rally called Israel Wants Change. "Benjamin Netanyahu has served as prime minister for six years straight," said keynote speaker Meir Dagan, the former head of the Israeli spy agency Mossad, "six years in which he has not led a single genuine process of change to the face of the region or the creation of a better future. On his watch, Israel conducted the longest [military] campaign since the War of Independence." Posing a question to the prime minister, he added: "Why should you be responsible for our fate if you are so afraid to take responsibility?"
Still, the polls aren't as close when Israelis are asked who they want for prime minister, rather than which party they will vote for. In a poll conducted last week by Israel's Channel 10, Netanyahu had 44 percent to Herzog's 35 percent. A Channel 2 survey looked even better for Netanyahu, with 47 percent choosing him and 28 percent favoring Herzog.
Of course, Israeli elections are even more complicated than our own electoral college system. Even if the Zionist Union wins a few more seats than Likud, that won't necessarily mean that Herzog will be prime minister. That will be determined when the various parties cobble together a governing coalition, and President Reuven Rivlin has said that if Likud and the Zionist Union are close, he will call on them to form a unity government. Netanyahu has vowed not to form a coalition with the left, citing the "wide ideological chasm" between the parties, but Herzog said on Monday that he's learned "never to say no in advance." He added, "I want to make it clear: I'm here to beat Netanyahu and send him home."