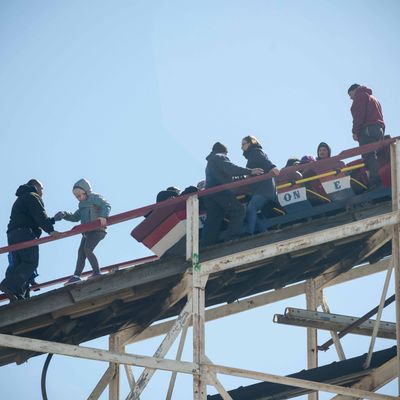 Workers assist thrill-seekers on the Luna Park Coney Island Cyclone roller coaster after it got stuck on its inaugural run of the season on March 29, 2015.
Photo: Richard Levine/Demotix/Corbis
Coney Island's historic Cyclone roller coaster sent riders on an emotional roller coaster yesterday when it broke down on the park's opening day, causing riders to climb down from the peak of the ride themselves. 
The NYC landmark stalled at about noon on Sunday due to an "isolated mechanical issue," and passengers had to climb one-by-one down the ride's wooden slats. No one was injured, and the coaster was closed for the rest of the day for repairs.
"That thing was the scariest thing I ever did," one rider told amNewYork about his climb down the wooden coaster. "The bricks, walking down, looked like it was going to break when you stepped on it."
It's almost like a roller coaster built in 1927 isn't that safe anymore.