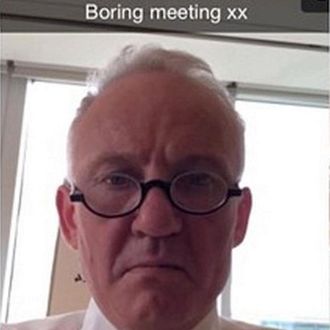 Rory Cullinan, who was just promoted to a new high-paying position at the Royal Bank of Scotland, will leave the bank at the end of April. The Guardian reports that the departure is owing to a disagreement "with colleagues about how to implement strategy at the loss-making bank." Other news organizations theorized that Cullinan is leaving because of unfortunately captioned selfies and teens' inability not to share everything. 
The banker had been sending Snapchats to his daughter from RBS meetings. He apparently had the time to send these missives — which feature Cullinan wearing what appears to be Warby Parker's entire inventory of eyeglasses — because the meetings were not very stimulating. The photos have captions like, "Not a fan of board meetings xx," "Boring meeting xx," and "Another friggin meeting."

As teen scripture dictates, Cullinan's daughter later uploaded screenshots of her father's Snapchats on Instagram, which The Sun discovered earlier this month. The incriminating Instagram photos were from last spring, and wished a "Happy Father's Day to the indisputable king of Snapchat."
Business Insider's report on the messages notes, "To be fair to Cullinan, the private messages seem like the kind of normal, run-of-the-mill stuff any father might send his daughter during a break at the office," which suggests that the world will soon be bombarded by an endless number of dull Instagrams featuring #teens showcasing their parents' ability to use the internet. 
However, The Guardian insists that "[c]aptions accompanying selfies Cullinan sent to his daughter complaining about boring meetings were not thought to have been the cause of his exit." 
Regardless, dads of Wall Street will hopefully learn never to follow the example of a #teen.