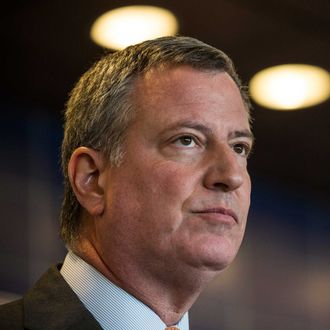 Photo: Andrew Burton/Getty Images
The people of Hoboken weren't the only ones who got into the St. Patrick's Day spirit more than a week early this year. The Rockaways' parade celebrating the holiday was on Saturday, and Mayor de Blasio — who has never, ever been known for being timely — was a half-hour late to it. The crowd didn't take it well.
Organizers delayed the event by ten minutes before deciding to start without de Blasio, and the "Mayor of New York Bill de Blasio" banner he was supposed to march behind made it halfway through the 28-block parade route before he caught up. According to both the New York Post and the New York Daily News, some attendees greeted de Blasio with chants of "Worst mayor ever! Worst mayor ever!" and at least one "Give that man a watch!"
And that's not all: Various parade-goers described de Blasio as "always late," "very disrespectful," "not well-liked down here in the Rockaways," "a disgrace," "definitely going to be a one-term mayor," and "de Assio." Some also took issue with the mayor's decision to travel to the area by NYPD boat when he recently suspended the Rockaway ferry. Even the Associated Press acknowledged that de Blasio had "irked" folks.
For his part, de Blasio explained his tardiness by saying, "We had some meetings at Gracie Mansion today. They took a while, some stuff we had to deal with, and then we came up as soon as possible after that." (Alas, it was only a few hours too early to blame Daylight Saving Time.) Hey, at least he got this fun illustration out of the debacle: