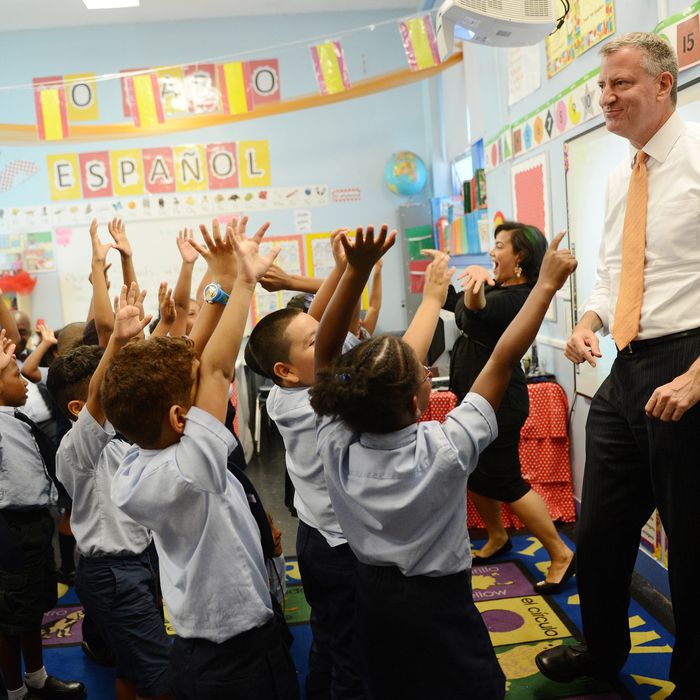 New York Mayor Bill de Blasio visits a second grade Spanish class at Amber Charter School in Manhattan on the first day of NYC public schools, September 4, 2014 in New York City.
Photo: Susan Watts-Pool/Getty Images
Mayor Bill de Blasio has done a good job of keeping his distance and playing it cool this state budget season. Earlier this week, though, during an appearance at Automotive* High School in Queens, the mayor was asked about the possibility of New York State taking over troubled schools like Automotive.
His answer was pointed. "With all due respect to folks who work in Albany," de Blasio said, in a tone suggesting frustration more than respect, "I don't think that bureaucrats 150 miles away are going to do a better job of solving our problems than our own chancellor and our own principals and teachers will do."
His crankiness was understandable: Mayors deserve the ability to run their own school systems. But with that power up for renewal by the state legislature, de Blasio had better be prepared for several more months of political aggravation.
The importance of mayoral control to mayors has been plain for years. That's why Rudy Giuliani fought, unsuccessfully, to gain it, and why Mike Bloomberg fought, successfully, to win it.
But retaining control is especially important to de Blasio. His deep identification with expanded pre-kindergarten, his union-friendly approach to school management, and his emphasis on education as a weapon against inequality raise the stakes for the mayor's academic performance.
That makes the continuation of undiluted mayoral control a more valuable chip for Governor Andrew Cuomo, de Blasio's sometime friend, and for the state senate Republicans, who are definitely not the mayor's friends. Delaying the renewal of mayoral control could allow them to impose more conditions on de Blasio than just a higher number of charter schools. De Blasio, of course, will blame any lag on political gamesmanship instead of substantive disagreements about how to improve teaching and schools.
The real answer also involves the surprisingly unpredictable new era in Albany. Cuomo began his second term talking tough, vowing to use the tools granted him by the courts and the state constitution to force policy changes by including them in the state budget. Yet as the April 1 deadline approaches, the governor has been shedding priorities like an Apollo capsule losing pieces of a heatshield as it hurtles through the Earth's atmosphere.
The governor has pulled back proposals on everything from immigration to raising the age for adult criminal responsibility. A plan to combat campus sexual assault also looks as if it will be deferred until the standard legislative session. Additional ethical disclosures and school reform are still part of the state budget negotiations, though. A push to increase New York's minimum wage still has a pulse. For now.
Cuomo's low poll numbers are one reason for the scrambled, shifting dynamics. Another is the indictment, and toppling, of longtime Assembly speaker Sheldon Silver. His replacement, Carl Heastie, has allowed the Assembly's Democratic caucus a greater role in the budget maneuvering. De Blasio's best hope for renewing mayoral control by next week is that Heastie — whom the mayor supported for speaker — threatens to deny Cuomo the prize of a fifth-straight on-time budget. It's a thin hope.
"These past few weeks," an Albany veteran says, "have been thrilling — and befuddling." The final weekend of budget bargaining could be frantic. For de Blasio and mayoral control, though, the drama seems likely to drag into June.
* This post originally described the school as Aviation High School. It is Automotive. We apologize for the error.