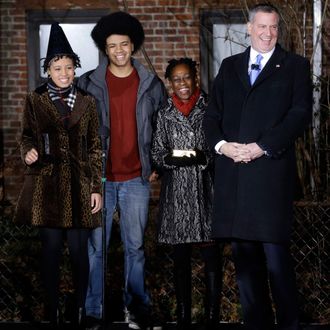 Photo: Seth Wenig-Pool/AFP/Getty Images
Mayor de Blasio and his family have been living in Gracie Mansion for about nine months now, but it seems that they're still settling in to the Upper East Side neighborhood of Yorkville. Or maybe they're not really settling in: The New York Daily News polled roughly 15 businesses in the immediate vicinity of the mayoral residence and found that the de Blasios have only ever patronized three of them. 
Those graced by the de Blasios' presence include York Avenue's Mansion and Luigi's Pizza and First Avenue's We Deliver Videos (take that, Netflix). (De Blasio also grabbed a takeout sandwich from First Avenue's Au Jus, and someone at Gracie Mansion has ordered from York Avenue's Bob's Bagels, but apparently those don't count as real visits.) Some Yorkville shopkeepers told the Daily News that they feel "slighted" by the proud Brooklynites. 
"Mr. I Love Italy, Mr. Pizza With a Fork — nothing," complained Chris Balak of Arturo's. (According to Balak, Rudy Giuliani was a regular the years he lived at Gracie.) "I'm sharpening my scissors all the time, waiting," said Arthur Shalamov of York Avenue's Hair Decor. (Fun fact: According to the Daily News, de Blasio prefers to get his hair cut at Astor Place Hairstylists, like a true NYU kid.) 
Meanwhile, de Blasio still frequents his old Park Slope haunts, including the Prospect Park YMCA, Bar Toto, and Colson's Bakery. While a de Blasio aide said that this winter's weather may have made it difficult for the family to explore their new neighborhood, they're not exactly apologizing for staying true to their roots. "The de Blasios are very happy to be living at Gracie," said spokeswoman Rebecca Katz. "But their hearts will always be in Park Slope." For now, they'll just have to settle for the rental income.