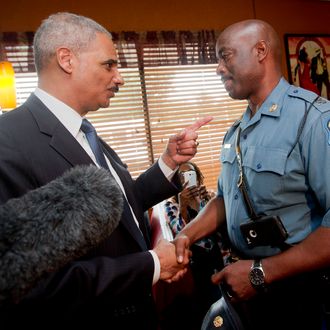 Eric Holder scolds a Missouri State Highway patrolman.
Photo: Pablo Martinez Monsivais-Pool/Getty Images
A Department of Justice report that could be released as early as this week has found racial bias in some Ferguson police department procedures, according to sources who spoke with the New York Times. Though the DOJ will reportedly clear Officer Darren Wilson in the shooting of teenager Michael Brown that sparked nationwide anti-police protests this summer, the new report will cite "discriminatory traffic stops," saying officers primarily ticketed African-Americans in order to pad their budget with the fines.
According to the Times:
Blacks accounted for 86 percent of traffic stops in 2013 but make up 63 percent of the population, according to the most recent data published by the Missouri attorney general. And once they were stopped, black drivers were twice as likely to be searched, even though searches of white drivers were more likely to turn up contraband.
Once the report is released, the Ferguson police department could face civil rights charges from the DOJ unless they reach a settlement.