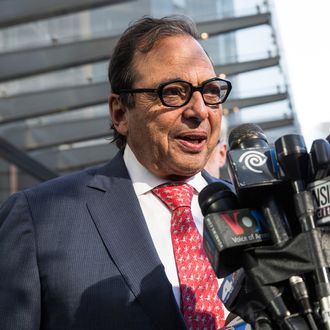 Douglas Durst speaks at a press conference announcing the opening of One World Trade Center on November 3, 2014.
Photo: Andrew Burton/2014 Getty Images
Real-estate mogul Douglas Durst refused to participate in The Jinx, but, in retrospect, he's glad that HBO ran a six-part documentary on his older brother Robert Durst's involvement in various murders — mainly because he feared he might be his next victim. In his first post-Jinx interview, Douglas Durst told the New York Times that his brother was stalking him on the night episode three aired. "We had information that Bob was five or 10 minutes away from my house in Florida," Douglas said, without elaborating on how he knew his brother's whereabouts. "We had to have security staying in the house."
For years, Douglas feared that his brother was plotting to kill him, and he was also concerned about the safety of his oldest daughter, Anita Durst, who heads an arts organization. "Bob seemed to have some fixation on her," Douglas Durst said. "She had events in the city where he would show up."
Douglas claims he didn't watch the documentary, but he addressed the film's implication that he colluded with attorney Nicholas Scoppetta, who found numerous inconsistencies in Robert's story about the disappearance of his first wife, Kathleen Durst. Douglas says he never spoke with his brother's attorney or the investigator he hired.
He added that his youngest sibling, Tom Durst, immediately thought Robert was responsible for Kathleen's disappearance, but he and his father had a hard time accepting that. "Seymour loved Bob and would never have believed that Bob could do anything like that," Douglas said. "At the time, although there was a lot to indicate Bob's involvement, it was very hard for me to believe this person I had grown up with for 40 years could have actually done this."
Douglas said the family is relieved that Robert is finally behind bars. "I no longer am looking over my shoulder," he said. "I'm very grateful to The Jinx for having brought this about."