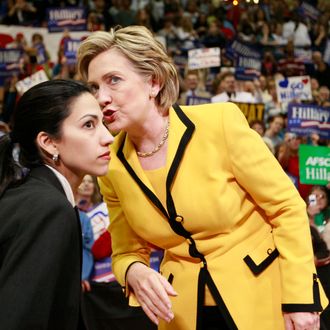 "Seriously Huma, what do you think about the baskets?"
Photo: AP Photo/Charles Dharapak
In 2013, the AP filed a Freedom of Information Act request seeking all of Hillary Clinton's correspondence about drone strikes and U.S. surveillance programs over a four-year period. The State Department just responded … by releasing four emails. That sounds pretty inconsequential, but one of the email exchanges produced a number of shocking revelations about the former secretary of State's online habits. On September 18, 2011, adviser Huma Abedin forwarded Clinton an AP story about a drone strike in Pakistan, and Clinton accidentally replied with unrelated questions about home decorations. Still not putting the pieces together? As the AP explains, this proves that "on at least one occasion, [Clinton] accidentally mingled personal and work matters"!
Per the AP:
"I like the idea of these," she wrote to Abedin. "How high are they? What would the bench be made of? And I'd prefer two shelves or attractive boxes/baskets/ conmtainers (sic) on one. What do you think?"

Abedin replied, "Did u mean to send to me?" To which Clinton wrote, "No-sorry! Also, pls let me know if you got a reply from my ipad. I'm not sure replies go thru."
Obviously, this raises a lot of questions: Why weren't Clinton's emails sending? What was she decorating? Does she have a Pinterest account? But more important, it's confirmation that Clinton was sending emails from both her BlackBerry and her iPad, despite her claim that she used her personal email for State Department business because she didn't want to carry two phones. As Slate reported earlier this month, at various points Clinton said she had a BlackBerry, an iPhone, an iPod, an iPad, and an iPad Mini. Why hasn't someone formed a House committee to investigate exactly how much space Clinton had in her purse?