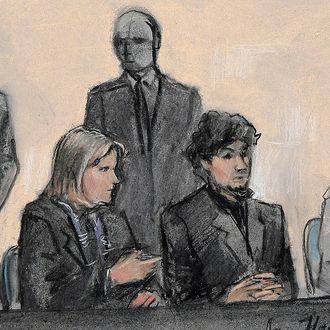 Photo: Jane Flavell Collins/AP/Corbis
Federal prosecutors are expected to close their case against Dzhokhar Tsarnaev in the first phase of the Boston Marathon bombing trial on Monday. The defense is not expected to say too much during this phase, since Tsarnaev's lawyers have already said that the 21-year-old took part in the 2013 tragedy. If Tsarnaev is found guilty, a second phase of the trial will determine whether he will face death or life in prison without parole. His defense team will likely try to convince jurors that Tsarnaev was influenced by his deceased older brother, Tamerlan Tsarnaev.
Prosecutors will end their case against Tsarnaev by showing jurors autopsy photos of bombing casualties. On Thursday, jurors gasped and looked away as postmortem photos of victim Krystle Campbell were shown. 
It is not clear whether Tsarnaev will testify. As the New York Times points out, seeing defendants take the stand during criminal trials is a rare thing, and is used only in circumstances in which a defense team thinks they have nothing to lose or believes that the defendant will be able to show remorse. Sometimes jurors read a lot into a defendant's silence, even though they aren't supposed to.
If a jury vote for the death penalty is not unanimous, Tsarnaev will not receive it. 
Judy Clarke, one of Tsarnaev's lawyers, told the jury during opening statements on March 4, "None of you would be sitting here … had you not convincingly and with conviction told us that you can remain open … your hearts and minds open to thinking about the evidence all the way. It's going to be a lot to ask of you to hold your minds and hearts open, but that is what we ask."
Tsarnaev's defense team has worked with several other clients who faced the death penalty or life in prison, including the Unabomber and the 1996 Atlanta Olympics bomber.