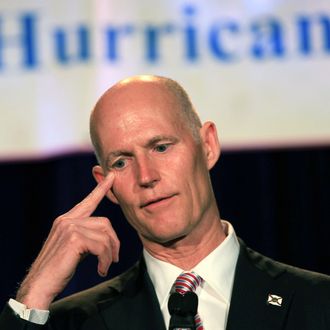 Scott wonders if banning the word "gravity" will allow him to fly.
Photo: Joe Raedle/2011 Getty Images
Like many in his party, Rick Scott, Florida's recently reelected governor, has declared he's "not a scientist" — yet he's found a novel way to eliminate climate change: Just don't talk about it. Employees of the Florida Department of Environmental Protection were banned from using terms like "climate change," "global warming," and "sustainability" in reports, emails, and official communication after Scott took office in 2011, according to the Florida Center for Investigative Reporting. Spokeswomen for Scott and the department denied that there is any such policy, but four former DEP employees said it was implemented verbally across the state. "We were told that we were not allowed to discuss anything that was not a true fact," said Kristina Trotta, who worked in the department's Miami office. It's unclear how the Scott administration determined that global warming isn't real, since it's usually too warm to throw a snowball on the Florida Senate floor.