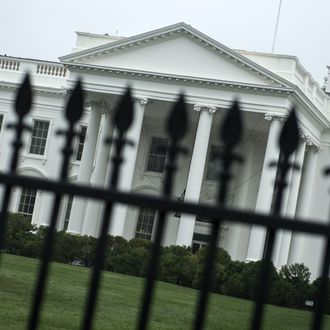 The White House.
Photo: BRENDAN SMIALOWSKI/AFP/Getty Images
Today in threats to the president's residence not caused by the Secret Service, cyanide was found in an envelope addressed to the White House. Agency spokesman Robert Hoback said the envelope, which arrived in a screening facility this week, initially tested negative for biological agents, but on Tuesday returned a "presumptive positive" for cyanide. It's been sent to another facility for further testing. According to an internal law enforcement document obtained by The Intercept, the letter contained an "unknown milky substance, in a container wrapped in a plastic bag."
The return address on the envelope reportedly matches that of a man known to the Secret Service since 1995. Over the years, he's sent multiple packages to the White House, including one containing mini bottles of alcohol and another that was covered in urine and feces. It sounds like he's graduated to even more troubling substances, but of course, it's possible he's being framed by his "longtime personal enemy"/tae kwon do instructor.