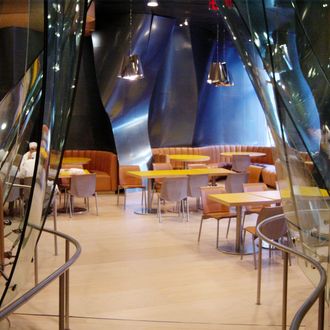 Anna doesn't come here anymore.
Photo: Kirsten Kiser/?arcspace.com
Condé Nast's last magazines at 4 Times Square — Vanity Fair and Bon Appétit — moved downtown in January, leaving the old Magazine Heaven spaces empty. That included closing down the most architecturally ambitious cafeteria in the world: the swoopy titanium-and-glass room designed by Frank Gehry when the company moved in a decade ago. In 1999, it was the room everyone in publishing was angling to visit for lunch; jokes abounded about the calorie-free meals consumed by the young ladies of Vogue and Allure, and contrasting the mediocre cooking with the fab environs. It's only one of three examples of his work in town, the others being his Spruce Street apartment tower and the IAC Building in Chelsea*. Now the room sits, closed and silent.
But not for long. Jordan Barowitz, the external-affairs director of the Durst Organization (which owns and operates the building), confirms that the lunchroom isn't going to be torn out. Gehry's cafeteria will be retained, he says, as "the cornerstone of the amenity space for tenants of 4 Times Square," adding that "the floor will include screening rooms, conference rooms, and collaborative spaces." Skadden, Arps, the building's other tenant (for now), has its own cafeteria, so this one will be exclusive to the new occupant, or occupants, of Condé's vacated 817,000 square feet, which run from the second floor to the 26th. There's no timeframe yet for it to reopen. "First we need tenants!" Barowitz says, with a chuckle.
*An earlier version of sentence omitted the IAC Building.