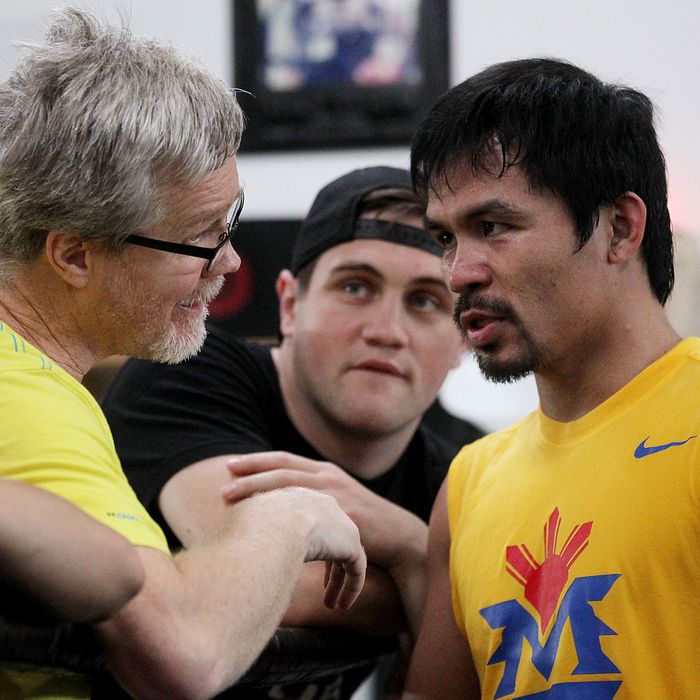 Roach and Pacquiao at the Wild Card gym earlier this week.
Photo: Luis Sinco/Los Angeles Times/Getty Images
Freddie Roach is struggling to walk up the stairs to the Wild Card, the boxing gym in Los Angeles he made famous by training the most elite crop of talent in recent decades. The man who molded Manny Pacquaio from a raw prospect who had lived on the streets in the Philippines into one of the greatest boxers of his time really ought to be in bed, resting and allowing his back to heal. Instead he's heading to the gym, which will certainly make it worse. 
"It's the biggest day of my life," Roach told me recently about his protégé Pacquaio's upcoming matchup against Floyd Mayweather, a fight that's already been billed as the biggest in the sport's history, and is projected to gross more than $300 million. Later today in Los Angeles, Pacquaio and Mayweather and their camps (Roach included) will take the dais for the first and only press conference to discuss the legendary bout — including, presumably, the state of Roach's bad back.
"I can't catch right now, and it's gotten me a little pissed off," Roach said, of not being able to work the mitts with Pacquiao lately.
With his chunky eyeglasses and spiky hair, Roach, now 55, could be mistaken for an aging guitarist in a punk band. But he's a boxing savant, and in the cramped space in a strip mall at Sunset and Vine, amid the dozens of aspiring champions skipping rope and pounding the heavy bags, Roach, who years ago was diagnosed with Parkinson's disease, moves around like a doddering pugilistic deity, trailed by a loyal crew of assistants under framed pictures of legends he's worked with, including Mike Tyson, Oscar De La Hoya, and newer talents like Miguel Cotto.
"Freddie Roach is the difference," Miguel Cotto says of Pacquiao's ability to handle Mayweather. Unlike many world champions, Cotto has the unusual experience of losing to both Pacquaio and Mayweather. "If Manny follows Freddy's plan, he'll be fine."
But the biggest question in the boxing world right now is what, exactly, Roach's plan will be.
"Manny has to fight the best fight of his life to win, and that won't be easy," Roach says.
For starters, Roach is a little concerned that his pupil's conversion to evangelical Christianity has gotten in the way of his training and softened his killer instinct in the ring.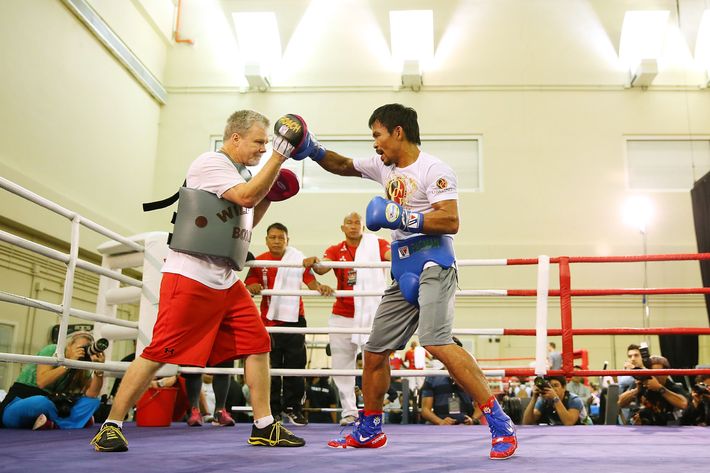 "I want to get him meaner and more aggressive because he's going to need it in this fight," Roach says.
To that end, Roach has been scouting around for Christian scholars who can point Pacquiao to passages in Bible that support violence and aggression. But Pacquiao has already been pushing back against his efforts, Roach says.
"He tells me, 'Let's just fight and let God decide who wins,'" says Roach. "I said, 'Manny, God doesn't give a fuck who wins. He's got bigger things to do."
As for Mayweather, Roach believes his greatest weakness is psychological.
"I want to get inside his head a little bit," Roach says. "He's not a secure person. He's very fragile. He's really insecure. You can tell by the way he lives. The money, the cars, the houses. I've seen that before in boxing. He's on the road to disaster."
In the ring, Pacquaio should be willing to fight dirty, Roach says.
"Mayweather is bothered by blood," Roach says, referring to rare moments in fights where Mayweather has been cut either by accidental butt or punches. "I don't know if Manny will be willing [to purposefully instigate a cut], but accidents do happen."
Roach himself is also an area of concern. His recent back injury is so severe Pacquaio promoter Bob Arum hired a pain specialist to treat Roach so he can get back to working the focus mitts with Pacquaio. As a trainer, Roach's greatest strength is personifying another opponent's style in training sessions, and using the focus mitts to train his boxers in how to exploit subtle weaknesses. He's created his own equipment to improve the workouts: tiny mitts, so fighters must be more accurate with their punches, and larger body padding, so they can target more areas. Roach's success as a trainer is bittersweet, though. The more of himself he sacrifices for his fighters, the more fighters want to work with him. The more fighters he takes on, the more they beat up on him in the gym. The impact of the punches he catches with the mitts tear at his joints. Sometimes the body punches suck the wind right out of him. 
"Sometimes I pee blood," Roach said. "It's not good for me, but it's good for them."
Sidelined with the back injury, Roach has been left to use his mind to craft the blueprint Pacquaio can use to beat the unbeaten Mayweather. He's rewatched Mayweather's fights on tape, studying his subtle movements and reactions. Roach has noticed how Mayweather's response to opponents has changed as he gets older. In the late rounds, the side-to-side movement has disappeared. The undefeated boxer has actually been forced to throw punches. For once, he's exposing himself. Roach sees a way to win. 
"I have it in my head," he says of the strategic master plan. "And it's almost there."