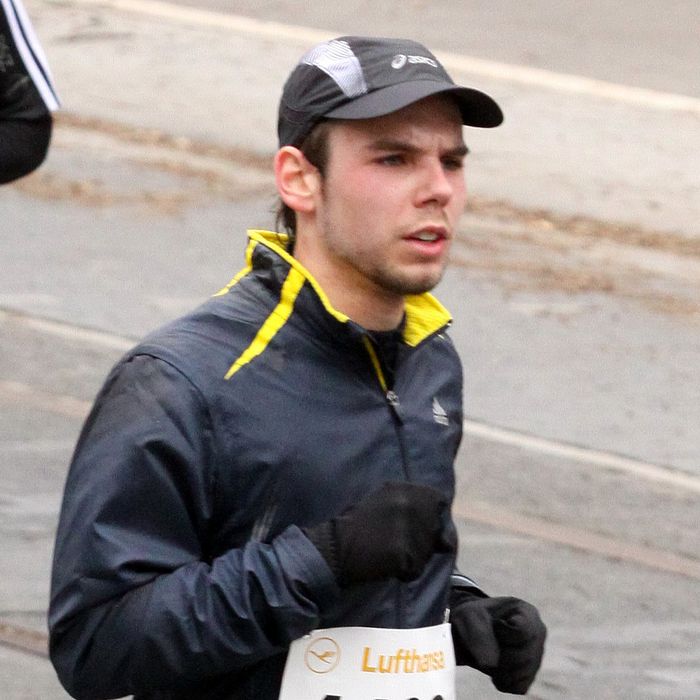 A photo of Andreas Lubitz taken during the Frankfurt City Half-Marathon on March 14, 2010 in Frankfurt, Germany.
Photo: Getty Images
German authorities have yet to find a suicide note from Andreas Lubitz, the pilot who apparently crashed a Germanwings jet carrying 150 people last week, but over the weekend a portrait emerged of the 27-year-old as a man suffering from vision problems — possibly a detached retina — and psychological issues.
On Monday, German prosecutors said that Lubitz had been treated for "suicidal tendencies" before receiving his pilot's license, but they were insistent in noting that there was no sign that this had persisted in follow-up visits to the doctor. 
More than 100 police officers in Düsseldorf have been investigating the crash and its cause in a new unit called Special Commission Alps, according to the Times: "Since the clues accumulated that the crash could have been premeditated, we have formed a murder commission with 50 specialized investigators."
On Saturday German's Bild newspaper published an interview with a woman who said she dated Lubitz for five months last year. "When I heard about the crash, I remembered a sentence … he said: 'One day I'll do something that will change the system, and then everyone will know my name and remember it,'" said the 26-year-old flight attendant, who gave the pseudonym Maria W. "I didn't know what he meant by that at the time, but now it's obvious," she said. "He did it because he realized that, due to his health problems, his big dream of working at Lufthansa, of having a job as a pilot, and as a pilot on long-distance flights, was nearly impossible."
As a young man working at a Burger King in Germany, Lubitz would often tell his co-workers of his dream of flying commercial jets. According to the Washington Post, in 2008 he headed to Phoenix to attend Lufthansa's pilot training program, but within a year he'd left the program and returned to his hometown. Detlef Adolf, Lubitz's former manager at Burger King, said he told him, "He had come back because he said the pressure was too great." Luftansa CEO Carsten Spohr confirmed that Lubitz had suspended his training "for a certain period" before completing the program in 2013.
The FBI went to a flight school in Arizona that Lubitz attended to ask questions, but found nothing "remarkable."
Last week it was reported that doctor's notes found in Lubitz's apartment suggested he was suffering from vision problems and hiding his illness from his employer, which the president of the association of German doctors who treat aviators called "highly criminal." He had consulted several doctors about the condition, and a source close to the investigation told the New York Times that authorities have not ruled out the possibility that the vision problem was psychosomatic.
The Wall Street Journal reports that Lubitz was also being treated for depression, and Bild said he sought help for "a bout of serious depression" in 2009. Authorities reportedly found prescription drugs for depression and sick notes from a neuropsychologist excusing Lubitz from work for the period when the crash occurred. Apparently he did not disclose his medical issues and reported to work anyway.
Lubitz's ex-girlfriend said they broke up "because it became increasingly clear that he had a problem," though "He knew how to hide from other people what was really going on with him." She said he suffered from nightmares and would wake up screaming "'We're going down!'" According to the Post, writings found in Lubitz's apartment showed he was deeply stressed about his vision problems and afraid that it would cost him his job.
However, investigators say there was no clear sign that he was considering suicide, and one official said they're considering the possibility that he quickly decided to crash the plane when the opportunity presented itself. According to a summary of the cockpit audio recording released by Bild, Captain Patrick Sondenheimer says he didn't get a chance to use the bathroom before the flight took off in Barcelona, and Lubitz tells him he can take over anytime. At 10:32 a.m., several minutes after Sondenheimer left the cockpit, he's heard banging on the door and shouting "For God's sake, open the door!" as passengers scream in the background. The recording ends eight minutes later. Another video found at the crash site and described by French magazine Paris Match shows what it was like in the back of the plane in its last few minutes in the air. "One can hear cries of 'My God' in several languages," according to the magazine, before silence. 
Some challenged the emerging narrative about Lubitz. His co-worker pilot Frank Woiton told Germany's WDR that Lubitz was talking about the future when he flew with him earlier this month. "He wasn't a person who you thought would commit suicide," Woiton said. "He seemed very happy, and he wanted to become a captain for long-distance flights. He was very good at his job."
Officials said Lubitz was living with his longtime girlfriend at the time of the crash. She is a teacher at a secondary school in Duesseldorf, not the ex who talked to Bild, and the German paper said she recently told students she was pregnant. French prosecutors said they have yet to question Lubitz's family "out of decency and respect for their pain."
Germanwings is expected to start sending payments to the families of those who died in the crash — many of whom have yet to be identified. As the Times notes, the amount received by each family will likely depend on the nationality of the victim. Passengers on the flight came from more than 16 countries. Search parties continue to look through the rubble for remains, although bad weather has made the recovery process very slow. Helicopters have been unable to fly to the crash site, so an access road is being dug out by bulldozers so that rescue workers no longer need to walk to the site. None of the bodies of the 150 victims have been found intact, according to officials. Four hundred to 600 body parts have been recovered and are in the process of being identified.
Germanwings pilot Frank Woiton, who had flown with Lubitz before, volunteered to fly the Barcelona to Düsseldorf route the day after the crash, and hugged passengers and reassured them that the flight would be safe. "People should see that in the cockpit there is also another human being," he told Bild.