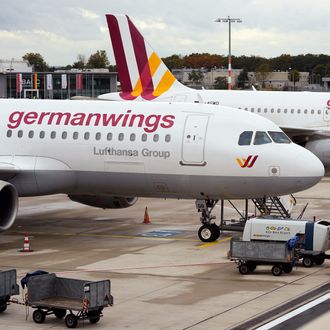 A Germanwings plane.
Photo: Martin Meissner/Corbis
A Germanwings flight traveling from Barcelona to Düsseldorf crashed in the French Alps on Tuesday with 142 passengers and six crew members onboard. Due to the "conditions of the accident," no survivors are expected, according to French president François Hollande.
The flight, operated by Lufthansa's budget airline Germanwings, crashed near the French town of Prads-Haute-Bléone after the pilot issued a distress call and the plane began a rapid descent. Though the weather in the area appeared calm, the plane dropped quickly from a flying altitude of 38,000 feet to 5,000 feet before it apparently crashed. It's unclear what caused the swift descent.
Debris from the plane, which was carrying German, French, and Spanish citizens, has already been located, according to France's interior minister.