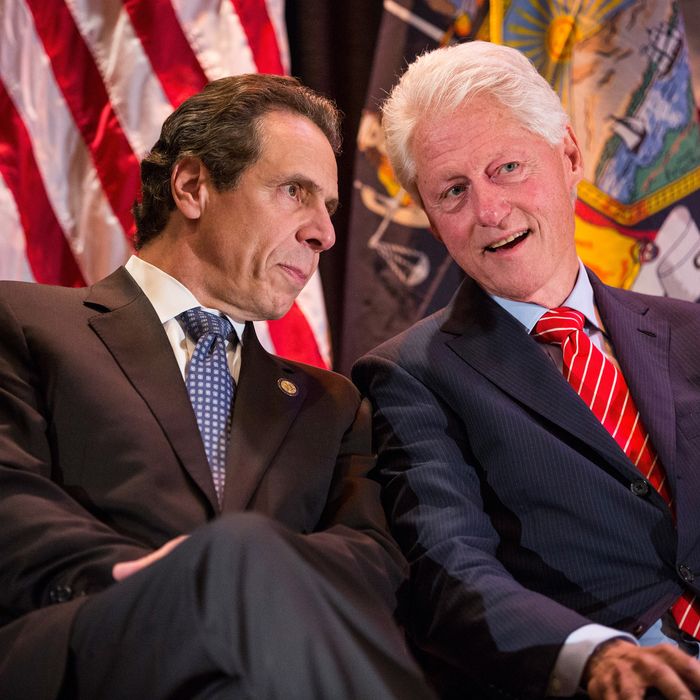 Did you try that board game I bought you?
Photo: Andrew Burton/Getty Images
Michael Shnayerson's unauthorized biography of Andrew Cuomo comes out next week. Capital New York culled some of the more interesting bits, including the detail that the New York Governor has a tendency to make Veep-esque proclamations to visitors when the White House calls. 
>
Just as everyone sat down, Andrew's secretary came in to announce he had a call from the White House. One NYRA board member rolled his eyes at that. "One of my favorite routines," he muttered to a colleague.
The book reminds us of Cuomo's well-documented love for Clinton too — the New York Times once wrote that "Mr. Cuomo quotes Mr. Clinton constantly to staff members." 
When a columnist for the Wall Street Journal wrote an admiring piece about Andrew, the president dashed off a note of congratulation; Andrew put it up in his office. The president sent him a clipped-out crossword puzzle that he'd completed in ink, with "Cuomo" as one of the answers. 
He also received a signed page of the Housing Act passed while Cuomo was at the Department of Housing and Urban Development in 1994, as well as the game Triopoly, described by one Amazon commenter as "monopoly on steroids." Clinton sent a note with the game, "I'm good, but you get Triopoly."
The governor's office, unsurprisingly, does not seem to like the book too much. The Times wrote earlier this week that "a spokesman for the governor, John P. L. Kelly, said the book sounded like the boring work of a gossip writer who sensationalized information to sell copies."