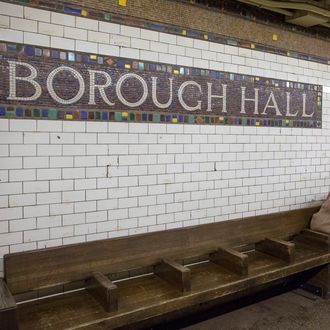 Borough Hall subway station on February 10, 2015.
Photo: REUTERS/Shannon Stapleton
A day after retired correction officer William Groomes, 69, fatally shot Gilbert Drogheo, 23, at the Borough Hall subway station in Brooklyn, police charged Drogheo's co-worker, 28-year-old Joscelyn Evering, with assault and menacing for the altercation that led up to the shooting. However, officials have yet to decide whether Groomes's actions were justified. The Brooklyn district attorney's office said that it is still "investigating the incident to see if a grand jury presentation is warranted."
The incident started during rush hour on Tuesday when Groomes stepped between Drogheo and Evering while boarding the 4 train. A law enforcement official told the New York Times that the younger men began taunting Groomes, who tried to ignore them. "At one point, they called him a boy," the official said. "He says: 'Don't call me boy. I'm not your boy.'" One of the men reportedly punched Groomes in the head, and according to the Associated Press, they pushed him down into a seat on the train.
Groomes showed the men he was armed with a 9-millimeter handgun, and the altercation continued on the subway platform. According to the Times, Goomes suggested he was a police officer and told the men he was going to arrest them for assaulting him.
A cell-phone video posted by CBS New York shows Groomes walking through the station and a witness shouting, "Don't shoot!" Drogheo and Groomes begin scuffling just before an exit gate, and the gun goes off. Drogheo was hit in the chest and pronounced dead at Brooklyn Hospital Center.
Groomes had a permit to carry a concealed handgun, and the Times notes that under New York law people have a right to use deadly physical force if they're facing the imminent use of deadly physical force — but unlike states with "stand your ground" laws, they must first try to retreat first. So in deciding whether to charge Groomes, investigators must determine whether he or Drogheo was the aggressor.
The incident has drawn comparisons to the case of Bernie Goetz, the white man who was acquitted of attempted murder after shooting four black teenagers he thought were planning to rob him in 1984. The Daily News tracked down Goetz on Wednesday, and his assessment was not surprising. "People shouldn't go looking for trouble," said Goetz, who is now 67. "I do not think that this guy would have started up with them," he added. "I would guess that they started up with him … They picked the wrong guy."