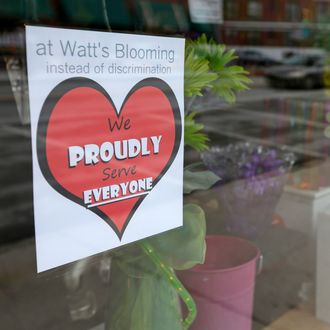 An anti-discrimination sign in the window of an Indianapolis florist.
Photo: Michael Conroy
While we do not know Hillary Clinton's views on Free the Nipple, it's safe to say that she and Miley Cyrus are rarely discussing the same political causes. However, on Thursday, an odd assortment of businesses, celebrities, and politicians came together to oppose a law signed by Indiana governor Mike Pence that will allow businesses to refuse to serve LGBT customers in the name of religious freedom. The Indianapolis Star notes 19 other states have enacted similar legislation, and it's based on the federal Religious Freedom Restoration Act, which was signed by President Bill Clinton. Pence insisted, "This bill is not about discrimination," but many responded with calls to boycott Indiana.
Soon after the signing, NCAA president Mark Emmert said the organization, which will hold the Final Four next week in Indianapolis, is "concerned about how this legislation could affect our student-athletes and employees." He went on to suggest that the NCAA may refuse to hold events in the state going forward, saying the organization will "closely examine the implications of this bill and how it might affect future events as well as our work force." Earlier this week, Jason Collins, who retired after becoming the first openly gay NBA player, tweeted:
The Protestant group Disciples of Christ said it's considering moving its 2017 convention out of Indiana. The gaming convention Gen Con threatened to do the same, though it said in a letter posted Thursday night that it intends to stay in Indianapolis through at least 2020, when its contract with the city expires, after local businesses assured them they will welcome all conventiongoers.
The San Franciso–based cloud computing company Salesforce went a step further. On Thursday, CEO Marc Benioff tweeted:
San Francisco mayor Edwin Lee announced that he had banned official travel to Indiana for city employees, saying, "San Francisco taxpayers will not subsidize legally-sanctioned discrimination against lesbian, gay, bisexual and transgender people by the State of Indiana."
Six-time Tony winner Audra McDonald joined the boycott, too, saying in a series of tweets directed at Governor Pence:
On the phone w/@united so long I forgot what year it was, then saw the law Indiana Gov.Pence just signed & remembered…It's 1950 … @GovPenceIN Some in my band are gay & we have 2 gigs in your state next month. Should we call ahead to make sure the hotel accepts us all? … or could you maybe send us a list of where its okay for us to go? Might the law apply to me?(I'm black). … or maybe I should fire my gay band members just to be on the safe side. … Or MAYBE…we need to stick to singing in states that don't legislate hate? … Or MAYBE I donate the money I make in your state while Im there to organizations that will combat your hateful legislation. … Yep. That's what I'll do. Hey @HRC get ready for a little money coming your way from Indiana via me to you! Have at it!
And plenty of other stars and politicians fumed about the new law on social media:
Miley's caption: "You're an asshole @govpenceIN ✌️-1 cc: the only place that has more idiots that Instagram is in politics @braisoncwukong thank you for standing up for what is right! We need more strong heterosexual men fighting for equality in both men and women! Why are the macho afraid to love muchoooo?!?"