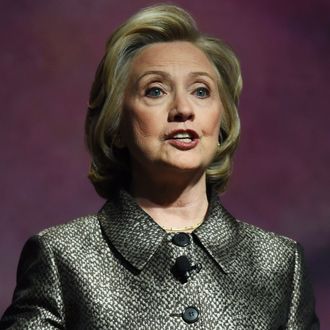 Photo: Don Emmert/AFP/Getty Images
Once Hillary Clinton gets around to officially announcing that she's running for president, she's going to need a campaign headquarters — and she's said to be quite interested in Brooklyn Heights. Consider it Mayor de Blasio's consolation prize for losing the DNC to Philly.
"Clinton and her team … are nearing a deal for office space at the MetroTech complex in Brooklyn. A lease has not been signed yet, according to a source with knowledge, but very serious negotiations are ongoing and the Clinton team settled on Brooklyn after eying other locations around New York City," CNN reports. "Clinton supporters see a number of benefits in Brooklyn, including ease of attracting talent to the New York area and the fact that it's known for ethnic and socio-economic diversity."
Of course, there are some downsides to setting up shop in New York's most populous borough. For one thing, it's not much cheaper than Manhattan, which might be a problem for the modestly paid staffers who will need housing that isn't too far away from the office. ("The campaign is asking supporters in New York if anyone who can open their doors and take in young workers," CNN notes.) And "some Clinton supporters have expressed concern with being closely associated with New York City, and in particular Wall Street, which is only two subway stops away."
On the other hand: Brooklyn Heights has Montero's and the Promenade, which would probably be a nice place to sit and think about what you'll do when you're finally in charge of the United States.