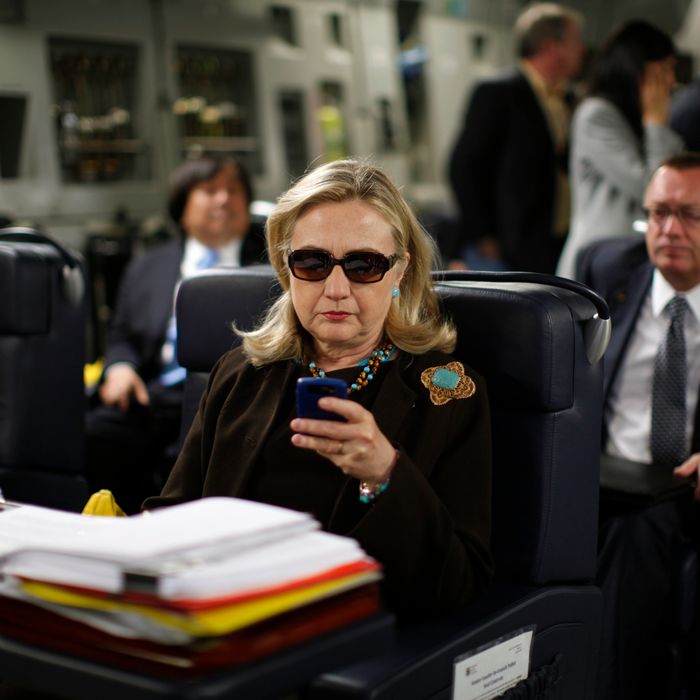 Your favorite Hillary meme just got awkward.
Photo: Kevin Lamarque/AFP/Getty Images
Take a moment to enjoy the "Texts from Hillary" meme one last time, because henceforth the image of Hillary Clinton scrolling through her BlackBerry with her eyes concealed by dark sunglasses will have an entirely different meaning. On Monday evening, the New York Times revealed that as secretary of State Clinton "exclusively" used her personal email address to conduct government business — and, in fact, didn't even have a government email address. While routinely using personal email would be an issue at many companies, it's illegal for federal officials, and the paper reports that her office made no effort to have her communications preserved on State Department servers.
Officials can use personal email in an emergency, but under the Federal Records Act, emails must be archived and made accessible to other government officials, historians, and the media. That regulation went into effect during George W. Bush's administration, and in October the State Department asked all secretaries of State to turn over emails from their time in office for preservation. Two months ago, Clinton's advisers presented the department with 55,000 pages of emails, but it's unclear how they determined which emails should be archived or how many were deemed strictly personal and withheld.
Clinton's spokesman, Nick Merrill, said she complied with the "letter and spirit of the rules" and had "every expectation [her emails] would be retained," since she sent messages to other State Department officials at their government accounts — though obviously any email she sent to someone outside the department wouldn't be preserved.
As the Washington Post's Karen Tumulty noted on Twitter, emailing did not come naturally to Clinton:
However, this can't be written off as a lovable case of parents not understanding how the internet works. According to the Post, Clinton's email has the domain "clintonemail.com," which was created on January 13, 2009. That was the day Clinton's Senate confirmation hearings began, and one week before Obama was sworn in. As Vox notes, there's no way a federal official at that time would have been unaware of the laws regarding email. From 2007 through the first year of the Obama administration, top Bush officials were embroiled in a scandal over accusations that they used personal email accounts to dodge oversight requirements. And even they used government accounts for formal business.
The issues with Clinton using her personal email go beyond potentially violating transparency laws. We know Clinton used the domain "clintonemail.com" because in 2013 the hacker Guccifer gained access to former Clinton aide Sidney Blumenthal's email, which included his correspondence with Clinton on sensitive matters including Benghazi. As Gawker's John Cook wrote at the time:
And if, as it appears, Blumenthal's emails contained information that was classified, or ought to have been treated as such, it could be a major security breach for Clinton to have allowed it to be sent to her on an open account, rather than through networks the government has specifically established for the transmission of classified material. Why, someone could hack into it. You never know.
In the annals of Clinton scandals, using the wrong email account is fairly tame. However, at a time when many are searching for concrete evidence of the Clintons' shady dealings, and another likely 2016 candidate just posted his entire email archive online, it's a safe bet that this isn't the last we'll hear about "emails from Hillary."