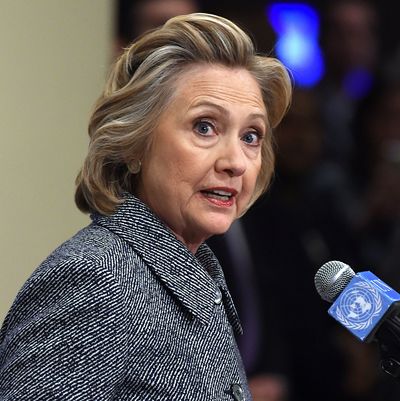 Clinton sort of responding to Emailgate at her press conference Tuesday.
Photo: Don Emmert/AFP/Getty Images
Most weeks, New York Magazine writer-at-large Frank Rich speaks with contributor Alex Carp about the biggest stories in politics and culture. This week, the magazine asked him about Hillary Clinton and the ongoing email saga, the GOP's open letter to Iran, and the future of NBC News.
Hillary Clinton finally defended her use of private email with a 20-minute news conference, which did little for those on the right set on fanning the flames of controversy to Benghazi-type levels. What's the playbook for her now?
That it took Clinton as long as it did to respond to the rising chorus of these questions, and that she did so as defensively and unconvincingly as she did, is yet more evidence that she's not ready for the brutality of a presidential campaign. This hastily called, abruptly truncated press conference was reminiscent of the mistakes she made last year in her ill-fated book tour. She didn't schedule yesterday's appearance until after the most senior of Democratic senators, Dianne Feinstein, essentially demanded that she speak up.
Some of what Clinton said didn't pass the smell test. It reminded me of an episode in the first season of Veep where the vice-president announces she will release all her internal office correspondence to quell a controversy and then instructs her staff to make sure it's "Modified Full Disclosure Lite." That's what we got here. Why, for instance, would Clinton say that she "didn't see any reason to keep" her personal emails? Those are precisely the emails that every American keeps.