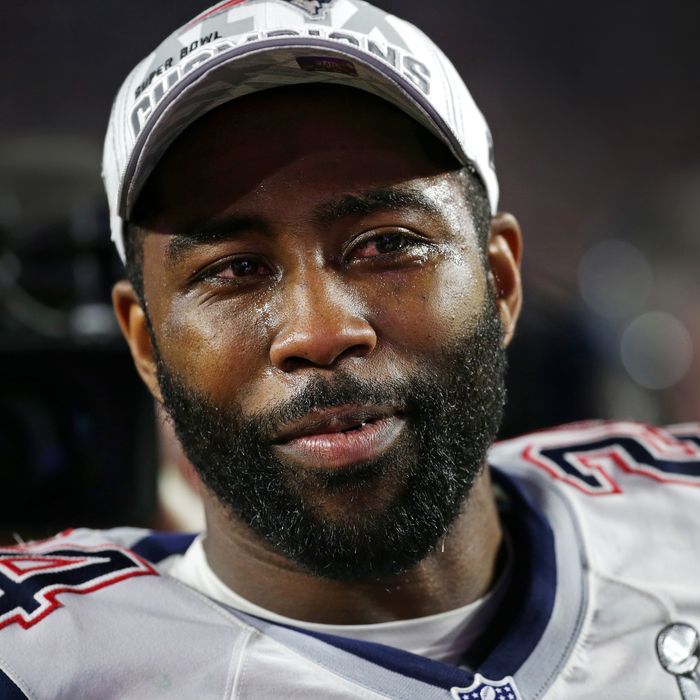 Darrelle Revis is returning to the New York Jets.
Photo: Boston Globe/Getty Images
In New York, the jubilation is palpable after prodigal son Darrelle Revis agreed to return to the Jets after yearlong stints with the Tampa Bay Buccaneers and New England Patriots. He didn't come cheap, though, as the contract is reported to be worth up to $70 million over five years. Like most NFL contracts, it's a slightly deceptive figure, because only $39 million is guaranteed, $33 million of which pays out in the next two years, after which Revis will likely negotiate a new contract or join a different team, but it still makes him the league's highest-paid cornerback.
It's a familiar pattern for Revis, who's proven adept at negotiating big paydays. Not including that $33 million, he has earned just north of $85 million during his NFL career so far, making him the 22nd-highest-earning player in league history and the sixth-highest-earning defensive player. If he did play out his latest contract with the Jets in full, he'd end up with over $150 million, which might make him the highest-paid defensive player ever. Though Revis's talent is undoubtedly the primary reason for his earnings, he's also aggressively gambled on himself by refusing safer long-term contracts in favor of the biggest possible short-term payday. It's a risk that more sports stars are taking.

Unsatisfied with his rookie deal after three years, Revis demanded to renegotiate in 2010, refusing to play until the Jets offered a then-staggering $32.5 million guaranteed contract over two years. In 2012, he tore his ACL, a major injury that some players never fully recover from. The Jets then traded him to the Tampa Bay Buccaneers for draft picks. On a new team, in a new defensive scheme, and coming off a significant injury, Revis had every reason to settle for a safer contract worth plenty in guarantees. Instead, he did the opposite, negotiating a six-year $96 million contract with no guaranteed money. If he continued to play like a top player, he'd be paid for it, and if he didn't, there was no safety net. He did play well and cashed in for a year, but when a new regime came into Tampa, it frowned upon the expensive contract and let him go. Revis then signed another short-term deal worth $12 million with the Patriots, won a Super Bowl, and hit the market yet again to sign this latest blockbuster — his third huge contract in as many years.
Revis is not alone in assuming more risk for a potential windfall: Wide receiver Jeremy Maclin also opted for a short deal with the Philadelphia Eagles, even when a longer, more lucrative one was offered, in order to prove his worth coming off of a torn ACL. Like Revis, he played well and got his money this off-season, reuniting with his old coach in Kansas City. Baltimore Ravens quarterback Joe Flacco, who was loudly mocked in 2012 for mentioning that he considered himself a top passer, turned down a long-term offer from the Ravens with one year left on his rookie contract in favor of playing out his deal. He promptly led the Ravens to the Super Bowl, and they rewarded him with one of the largest contracts in professional sports history. In the NBA, LeBron James built opportunities to opt out of his four-year contract with Miami, affording himself flexibility, and recently opted for just a two-year contract upon returning to Cleveland in order to take advantage of the NBA's huge impending salary cap expansion. Even younger NBA players like K.J. McDaniels of the Houston Rockets, frustrated at a lack of negotiating leverage, are starting to take similar risks, forgoing guaranteed money to have more control over where they might spend their prime.
Of course, gamblers don't always win. In 2012, talented NFL defensive end Cliff Avril turned down a $20 million guaranteed contract from the Detroit Lions, and when his play regressed next season, he only commanded a fraction of that on the open market. Quarterback Josh Freeman, like Flacco, played out the final year of his rookie contract with Tampa Bay in 2013, getting benched and cut in the process. Surely he would have liked to have cashed in on his occasional brilliance as a Buccaneer.
That's why this trend is likely to remain mostly limited to the true superstars in any sport, who can more reliably bank on a longer career and a stable of willing buyers. Even if LeBron suffers an ACL injury in the next year, any team in the NBA would still give him a max contract before he returns. Revis, turning 30 this off-season, may have negotiated his last major payday. Only time will tell if he can once again live up to such a large salary, but it might not be smart to bet against him. He never has.