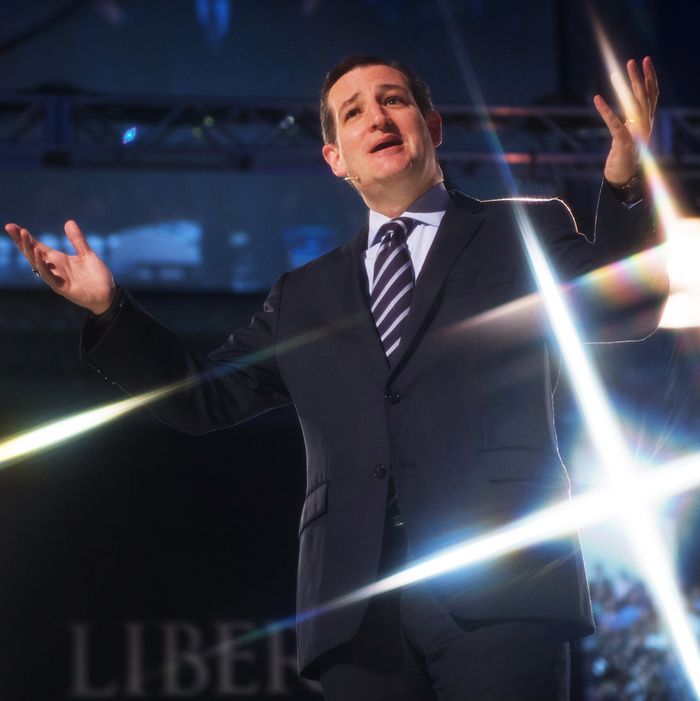 Ted Cruz delivers remarks before announcing his candidacy for the Republican nomination.
Photo: Paul J. Richards/AFP/Getty Images
Senator Ted Cruz became the first big name to announce a 2016 presidential bid today. The announcement itself took place at Liberty University, but like most political events of a certain cachet, the pomp and circumstance was most visible on Twitter, where people began exercising their out-of-practice campaign-tweet muscles.
One non-jokey conclusion that everyone settled on? Cruz's campaign strategy appears to be winning over Christian conservatives who tend to have an outsize influence on the Republican primary process — even though their voice is diluted once the general election arrives.
Not that you needed to listen to the speech to figure that out. Deciding to announce your presidential bid at the largest Christian university in the world while more than 10,000 students are obligated to listen makes those optics pretty clear.
However, there were plenty of other predictions to be made about the future of Cruz's presidential bid — and the entire election cycle — based on the tweets reacting to the speech.
The enormous size of the Republican presidential field is going to lead to some excellent intra-party trolling.
If you plan to watch future Ted Cruz speeches, bring popcorn, and maybe a magazine, too.
Twitter jokes still don't get funnier after the third time you read the same exact one.
During Cruz's speech, he asked his audience to imagine a world where a president were elected in 2016 who sounded a lot like Ted Cruz.
The refrain of "imagines" sounded familiar. 
The arrival of Yik Yak means that we will finally be able to understand what #teens think about politics. 
Reporters who don't cover politics have the best ideas for how to make politics more interesting.
This is the election where we are reminded of how our Founding Fathers fought so that later politicians would be able to invoke their memory to build a fund-raising base. 
Ted Cruz asked his audience to text the word Constitution to a number, you can be sure that many other candidates will do the same — and at the end someone will write a story about what the word chosen by each candidate reveals about their presidential bid. 
There has yet to be a Ted Cruz speech that cannot be accurately summed up with this Vine.