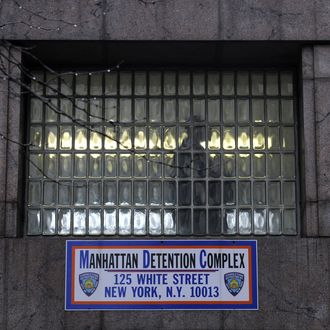 Photo: Timothy A. Clary/AFP/Getty Images
An inmate at the Manhattan Detention Complex has filed a lawsuit against the City of New York and prison health-care provider Corizon Health Services, alleging he was denied proper medical treatment after a prison guard closed his cell door on his left hand, severing part of his middle finger.
Rudolph Richardson was taken to the prison clinic to see Dr. Landis Barnes who, according to the complaint, "briefly looked at Mr. Richardson's hand and told him that his finger could not be saved." He then told Richardson to "throw the detached portion of his finger into the garbage." When Richardson refused and asked Barnes for a solution or ice to preserve his finger, Barnes "reluctantly fulfilled this request."
Richardson was later transported to Bellevue Hospital, where the portion of his finger was reattached. He's suing for rights violations, medical malpractice, and emotional distress. 
Injuries aside, this isn't the first time inmates or their families have taken issue with Corizon. The health-care provider was blamed in part for inmate deaths last August and earlier this month, and during a hearing last week, officials said outright that they want the city to fire the health-service organization.