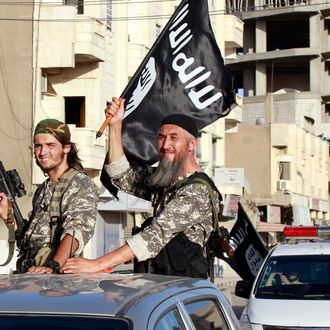 ISIS fighters take part in a military parade along the streets of Syria's northern Raqqa province on June 30, 2014.
Photo: Reuters/Corbis
ISIS is already adept at using social media for recruitment and self-promotion, and over the weekend it found a new way to spread terror via the internet. On Saturday the group calling itself the "Islamic State Hacking Division" posted the personal information of about 100 U.S. service members and urged its supporters in America to carry out "lone wolf" attacks against them. "With the huge amount of data we have from various different servers and databases, we have decided to leak 100 addresses so that our brothers in America can deal with you," the group said. "And now we have made it easy for you by giving you addresses, all you need to do is take the final step, so what are you waiting for?"
The Defense Department and FBI are investigating, but they said they don't believe any government servers were hacked. According to the New York Times, it appears that the names were pulled from news reports on airstrikes against ISIS, and the accompanying photos, addresses, and personal information could have been culled from public records and social media. The group claims that the 100 service members directly participated in attacks on ISIS overseas, but some on the list had nothing to do with the attacks.
The group's tie to ISIS has not been verified, but on Sunday various branches of the military reminded service members to be cautious online. "Adversaries and malicious 'cyber' actors continue to use any method possible in an attempt to gain access and exploit any information they can," U.S. Central Command wrote in a Facebook post. "I ask that you maintain vigilance and continue to safeguard yourself and your family's security while interfacing on the internet and participating in Social Media."
At a conference in Brussels, NATO commander Philip Breedlove dismissed the list as a sign that ISIS is growing desperate. "What we have seen across the last several months is that every time they take a defeat on the battlefield, or every time they are under great pressure on the battlefield, they come out with kind of some big splash like this," he said. "This caliphate, I think, is under great pressure and so they try to divert attention from what is happening on the battlefield."
Several military personnel on the list — who chose to remain anonymous for obvious reasons — told ABC News they weren't rattled. "This is just a way they are trying to intimidate us — and it's not going to work," said one service member.