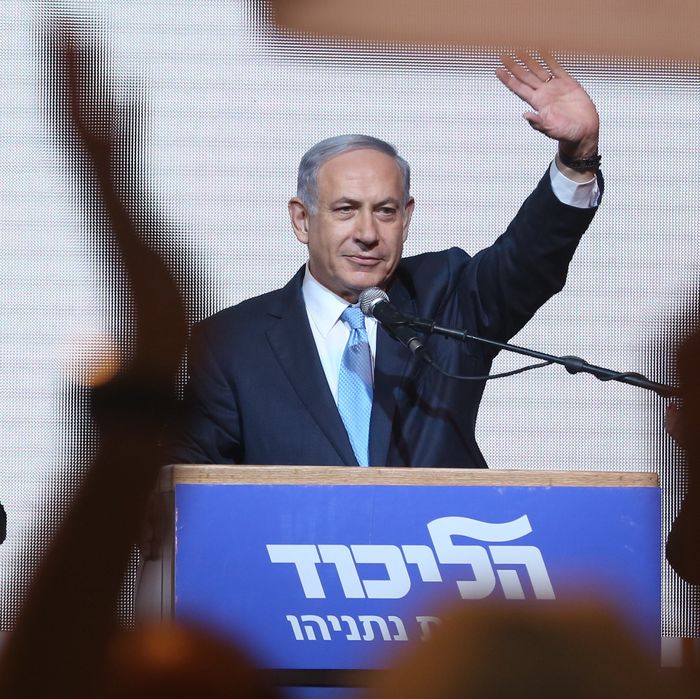 Netanyahu delivers a speech next to his wife Sara as he reacts to exit poll figures in Israel's parliamentary elections late on March 17, 2015 in Tel Aviv.
Photo: MENAHEM KAHANA/AFP/Getty Images
When most Israelis went to bed on Tuesday night, the election had ended in a tie, with exit polls indicating that Likud and the Zionist Union had each won 27 seats in parliament. It was an impressive comeback for Benjamin Netanyahu, since Likud had been behind in the polls, and the prime minister was quick to declare victory. Certainly, Netanyahu was better positioned to form a government coalition, but it looked like he might still face a messy battle with Zionist Union leader Isaac Herzog in the coming weeks.
But by the time Israelis awoke on Wednesday morning, it was a different story: With 99.5 percent of the votes counted, Likud had 30 seats to the Zionist Union's 24. In a matter of hours, Netanyahu had secured a decisive victory, essentially ensuring that he will serve an unprecedented fourth term as prime minister.
At his own Election Night rally, Herzog had declared that "everything is open" and he would "make every effort to form a real social government for Israel." But at a press conference on Wednesday morning, he told reporters that he had called Netanyahu to congratulate him on his election victory. "The nation has had its say, and we have to respect that," he said.
While President Reuven Rivlin said last night that he would call on Likud and the Zionist Union to form a unity government, that now appears unlikely. Both parties rejected the idea prior to the election, and while Herzog still wouldn't rule out joining a Netanyahu-led coalition on Wednesday, top Zionist Union politician Stav Shafir wrote on her Facebook page that the party "will serve the country from the opposition."
Netanyahu told supporters that he's already made calls to leaders of Israel's right-wing and religious parties to begin discussing a coalition. He needs the support of at least 61 members of the Knesset, or a majority of the 120-seat parliament. According to a statement from Likud, Netanyahu has reached out to the right-wing parties Jewish Home, which won 8 seats, and Yisrael Beiteinu, which took 6, plus the ultra-Orthodox parties (Shas and United Torah Judaism), which won a combined 13 seats.
With those allies, Netanyahu would be just shy of his goal with 57 seats, which is why he also needs the support of Kulanu. The center-right party took ten seats in the election and was declared the "kingmaker" in the presumed battle between Likud and the Zionist Union. Kulanu's leader, Moshe Kahlon, was a popular Likud minister who broke from the party partly due to his issues with Netanyahu. Last week the prime minister offered to make Kahlon finance minister if he joined his new government, but Kulanu refused to commit to either side. However, according to the Washington Post, most analysts believe he will join Netanyahu's coalition.
"Our country's everyday reality doesn't give us the luxury for delay," Netanyahu said in a statement on Wednesday. "The citizens of Israel rightfully expect that we will act quickly and responsibly to establish a leadership that will work for them in areas of defense, the economy and society just as we promised in this campaign — and just like we will now set ourselves towards doing."
So, after successfully pulling even further toward the right, Netanyahu will serve another term as prime minister — barring any other shocking twists.
This post has been updated throughout.