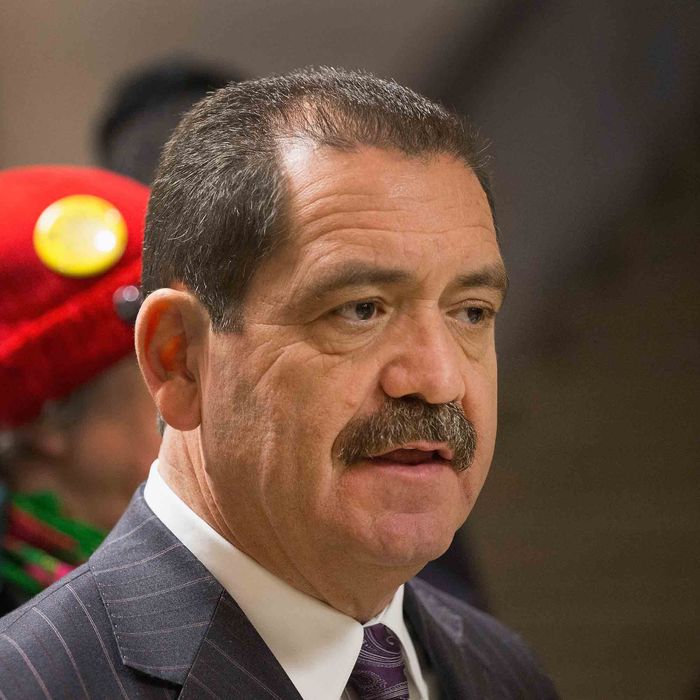 Chicago mayoral candidate Jesus "Chuy" Garcia speaks to the press in support of the United Taxidrivers Community Council (UTCC) during a press conference at City Hall on February 17, 2015 in Chicago, Illinois.
Photo: Scott Olson/Getty Images
It's an irresistible parallel: Amiable insurgent progressive mayoral candidate in major city rises by decrying a tale of two cities and attacking the big-money incumbent as an agent of the one percent while welding a coalition of liberal whites and marginalized minorities. Jesus "Chuy" Garcia, Chicago '15, is Bill de Blasio, New York '13!
Garcia was in the city for a fund-raiser last night organized by de Blasio's friends at the Working Families Party, and his supporters were eager to make the connection, to see Garcia's surprise forcing of an April 7 runoff against Rahm Emanuel as the latest manifestation of a grassroots wave building across the nation. "He sees the problem with our country — and his city — is the income inequality," Michael Mulgrew, the president of the United Federation of Teachers, told me. "The same thing that de Blasio pushed so smartly here."
The comparisons between the two candidates and the two campaigns are not so tidy, though. And the location of Garcia's New York fund-raiser is a telling, if small, example: the UFT's headquarters on lower Broadway. Garcia ran only after the top contender, a Chicago teachers' union boss, was diagnosed with a brain tumor. He has hammered Emanuel for closing 50 failing conventional public schools and increasing the number of Chicago's charters. In New York, de Blasio's critique of the Bloomberg administration's schools agenda was an undercard in 2013 — and candidate de Blasio failed to win the endorsement of Mulgrew's UFT, which went with Bill Thompson.
The main themes of de Blasio's winning race, of course, were the overuse of stop-and-frisk, the need for an expanded pre-kindergarten program, and lack of affordable housing. And while de Blasio's campaign cannily exploited emotional and racial angles, his platform also included a crucial fiscal device: a tax on the rich to pay for his plans, which allowed him to look fiscally substantive and responsible. Garcia, by contrast, has appeared shaky in explaining how he'd pay for millions of dollars in new spending that he says would even Chicago's socioeconomic playing field — let alone how he'd deal with the city's $20 billion in unfunded pension liabilities.
Garcia reached the runoff mostly because of an anti-Emanuel vote, fueled by irritations ranging from an increase in the number of tickets being generated by Chicago's red light cameras* to the tumult in the school system to Emanuel's abrasive personality. Yet the incumbent is in many ways a tougher target than the ghost of Bloomberg was for de Blasio.
Chicago is indeed confronting many of the same affordability and disparity problems that afflict New York. But Emanuel has addressed some of them in downright progressive ways: Free community college for students with good grades. An expansion of kindergarten to a full-day program. And, by 2019, a $13 minimum wage, a rate Mayor de Blasio must envy. Then there's the practical political problem of Chicago's campaign rules: Unlike New York, where de Blasio and his Democratic primary rivals were all working with the same number of dollars, Chicago basically allows unlimited campaign contributions. Emanuel has $20 million to Garcia's $3.2 million and has been swamping Garcia on TV. The most recent poll shows him up 48–32.
Garcia has clearly tapped into some 99 percenter anger, and centrist Democratic candidates — up to and including Hillary Clinton — need to confront those issues more directly. What Garcia's campaign has also shown, though, is that it takes a rare combination of political skills and circumstances to capitalize on voters' anxieties over income inequality. And last night, in his fund-raising speech, even Garcia seemed to obliquely acknowledge the gap between Chicago and New York, and between the two populist campaigns: He didn't once mention Bill de Blasio by name.
* Correction: This story originally said that there had been an increase in the number of red light cameras in Chicago. That was inaccurate.