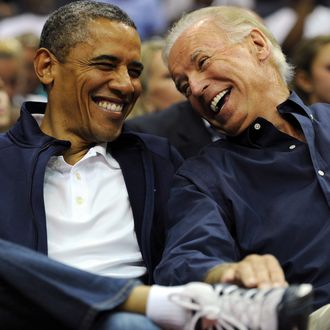 No one enjoys sport more than Joe Biden.
Photo: Patrick Smith/Getty Images
Have you ever wondered what it would look like if Vice-President Joe Biden did bicep curls with a 30-pound dumbbell while talking on the phone, as John Adams stared at him in admiration?
This is Joe Biden we're talking about, so you knew this day would come. 
Although we only see Biden do four curls, he tries to shame the rest of the country — most of which is not 72 years old — into exercising more by alleging that he does a million a day.
The last time we saw a politician doing this workout was an hour before Biden debated vice-presidential candidate Representative Paul Ryan in 2012. Time magazine published photos of Biden's opponent doing the exact same pose. However, Ryan only used 25-pound dumbbells. The P90X devotee did not mention whether he does a million bicep curls a day.
The White House made the Vine to publicize Michelle Obama's #GimmeFive challenge and the fifth anniversary of the First Lady's "Let's Move" campaign. And if you had any doubts of the internet's undying obsession with all things Joe Biden … Beyoncé posted a #GimmeFive Vine 16 days ago, but Biden's Vine, posted only two hours ago, has already surpassed it in views.