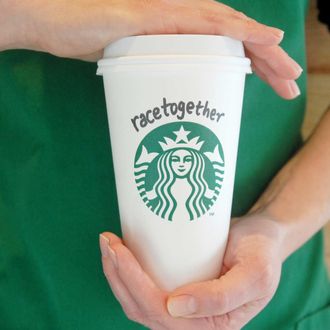 After Starbucks announced its ham-fisted #RaceForward campaign yesterday, in which it plans to solve racism in America by writing stuff on cups, several ambitious journalists set out to earn the scoop of the decade: talking to a Starbucks barista about talking about race. Unsurprisingly, it seems the only people interested in having a discussion about identity politics were the eager journalists themselves.
"I'm actually working right now, OK," one barista told CBS. "So I'm sorry about that, no comment."
In Seattle, a barista told Newsweek that the only customer who asked him about race was someone who mistook him for a skinhead because of his shaved head.
An employee at a Starbucks in midtown gave a halfhearted attempt to discuss race when a journalist for The Frisky brought it up, but ended up passing the burden on to his manager, who also said she was busy.
It was a reporter at Fast Company, however, who truly got to the heart of the issue:
Reporter: This is a little embarrassing, but I was wondering if you wanted to talk about race.
Barista: Race?
Reporter: Yeah.
Barista: What to say about it?
Reporter: I don't know, I just saw there was that promotion going on.
Barista: Oh yeah. 
Reporter: Yeah. Like, what happens if someone wants to talk about it?
Barista: I don't know. Nothing.
Fascinating.
It's almost as if these people have jobs that do not require them to educate wealthy customers — and curious journalists — about racial tensions in America.