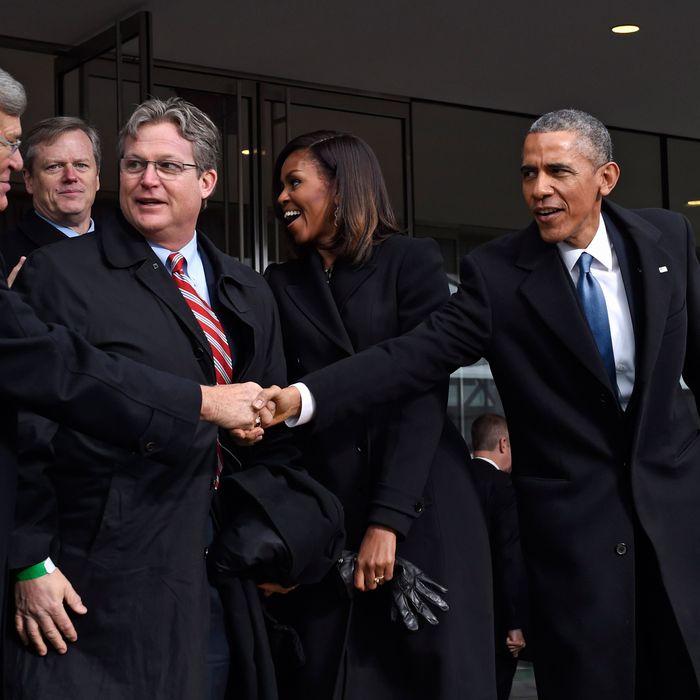 See, we're shaking hands! Friends!
Photo: Susan Walsh/AP/Corbis
President Obama went to Boston today to help dedicate the Edward M. Kennedy Institute for the United States Senate, which hopes to remind the public of the bipartisan promise of the Senate that people always express nostalgia for, even though it's hard to prove that it ever existed.
"It's hard for our children to see, in the noisy and too often trivial pursuits of today's politics, the possibilities of our democracy," he said. "Our capacity, together, to do big things." Senator John McCain said, "I have no doubt the place would be a little more productive, and a lot more fun, if he were there."
The crown jewel of the $79 million institute they were all there to celebrate is a replica of the Senate chambers, where students can pretend to pass laws, and get an understanding of how hard it is to make 100 people agree on something. And maybe, just maybe, they can feel a little sympathy for these policy-makers, who are appreciated by less than a quarter of the country — and have never seen their popularity rise above 45 percent since at least 1974 except in times of national tragedy. Judging from the curriculum provided by the Institute, students will feel sorry for Congress in no time. 
The institute has currently created two case studies that those using the chamber can act out — the Compromise of 1850 and immigration reform. According to the New York Times, Senator Mitch McConnell is working on a third case study on the Patriot Act. 
WBUR watched as high schoolers did the immigration-reform mock session recently. The kids started booing at one point during the debate, at which point a staff member told them, "Traditionally, folks, we don't boo in the Senate, we hiss." The kids quickly adapted, and expertly began hissing at those they disagreed with. The bill ended up failing.
The same staff member who told the students about hissing said, "Don't feel bad that you didn't pass comprehensive immigration reform. It is notable that the actual real current Senate has not been able to get through immigration reform."
They may have not managed to learn all the lessons of negotiation and compromise that the institute hopes to instill, but they did learn that this legislating stuff is harder than it looks.