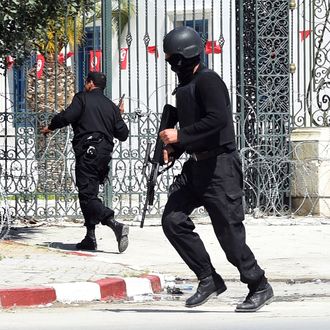 Photo: Fethi Belaid/AFP/Getty Images
At least 19 people are dead after a shooting at an art museum in Tunisia on Wednesday, near the country's Parliament building. Two of the attackers, who originally took others milling around the National Bardo Museum hostage, are now reported dead, as is an officer who took part in the raid. Authorities believer that other attackers may still be at large.
A cleaning woman working at the museum, which holds over 8,000 works, was also killed. Seventeen of those killed in the attack, which took place around noon, were foreign tourists; as many as 15 others have been injured. 
The reason for the terrorist attack remains unknown at this point. 
The New York Times reported that officials wonder whether the Parliament building was the original target; legislators were scheduled to debate an anti-terrorism bill today. 
When the Arab Spring began four years ago, Tunisians were among the first people in the region to call for democracy. After the attack, French Foreign Minister Laurent Fabius said, "Today terrorism has struck -and this is not by chance– a country that represents hope in the Arab world."
Since then, however, the Islamic State recruiters have used the country as a main source for soldiers. An estimated 3,000 Tunisians are fighting with ISIS in Iraq and Syria. About 60 soldiers and police officers have been killed in attacks reportedly involving ISIS in Tunisia since 2011. Last month, Tunisia arrested 32 people intending to allegedly carry out "spectacular attacks" in the country, and security forces have halted several arms caches — including grenade launchers and rockets — from crossing the Libyan border in the past week.
"Many are taking opportunities to undermine our homeland," Tunisian Prime Minister Habib Essid said in response to the attack. "We will act relentlessly, without mercy."