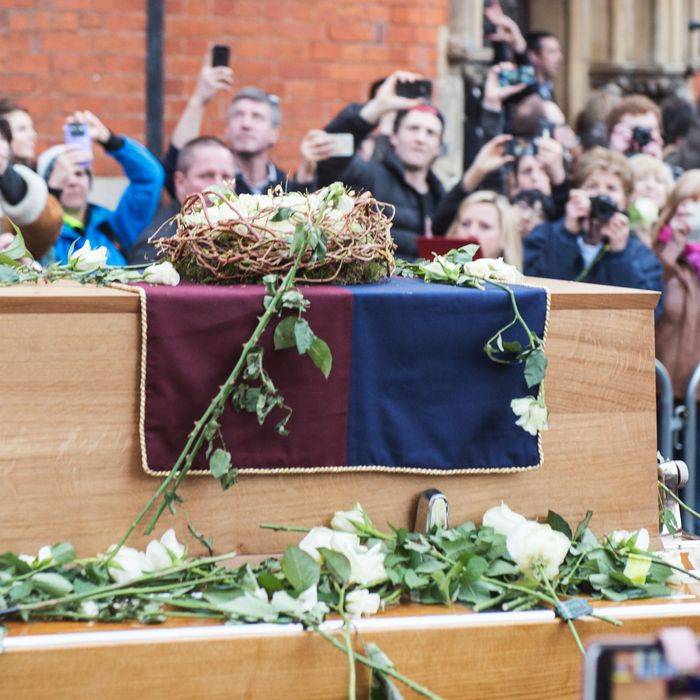 Members of the public watch on as the remains of King Richard III are paraded through the city center of Leicester.
Photo: Ollie Millington/Getty Images
My kingdom for a hearse!
The end of Richard III's life in 1485 is a famously gruesome affair, thanks to Shakespeare's famously gruesome depiction of a mean old man who killed young princes and a whole lot of other people. He died naked on a battlefield, and spent more than 500 years in the ground being remembered as someone who didn't deserve any better. Things didn't improve when academics found his remains under a car park in 2012.
However, those who think that Richard III was a decent guy who has seen his honor horribly besmirched have a chance to make things right this week. 
Around 35,000 people descended upon Leicester on Sunday to watch Richard III's remains roll around town, and the people seeking to defend the Plantagenet king — who only ruled two years — against centuries of skeptics have been saying nice things about him whenever they get the chance. 
"Let us remember King Richard III: The good king. The warrior king," Phil Stone, chair of the Richard III Society, said during the ceremonies. A Canadian cabinet-maker who happens to be Richard III's 16th great-nephew built the king's new coffin, which was strewn with white roses to signify his connection to Yorkshire — whose residents happened to be very displeased that they were unable to host the long-dead monarch. Louise Hollingworth, who started a campaign to move the burial to Yorkshire, wrote on Facebook, "The more I see of the undignified, money-grabbing pantomime surrounding King Richard III in Leicester this weekend, the more incensed I become."
Don't call it a funeral, though. The official name for Richard III's return to the grave on Thursday is "reinterment." Philippa Langley — also of the Richard III Society, and one of the major voices who called for academics to search for the king's remains — was not pleased by the decision not to give the king a state funeral. "Margaret Thatcher got a state funeral," she told Radio Times last week, "and she was just a prime minister."
There were plenty of people at the event who weren't quite so invested in rehabilitating Richard III's place in historical memory. A couple from New Zealand visiting Leicester were on their honeymoon. "We met at a funeral, so it is kind of fitting," one of them told The Telegraph. "He seems an underdog and I feel sorry for him." Victoria McKeown won a ticket to Sunday's ceremony, and told CNN, "It's a lovely way to spend a Sunday evening — not like being at home doing the ironing. It's part of history: I can say 'I've been to a king's funeral.'"