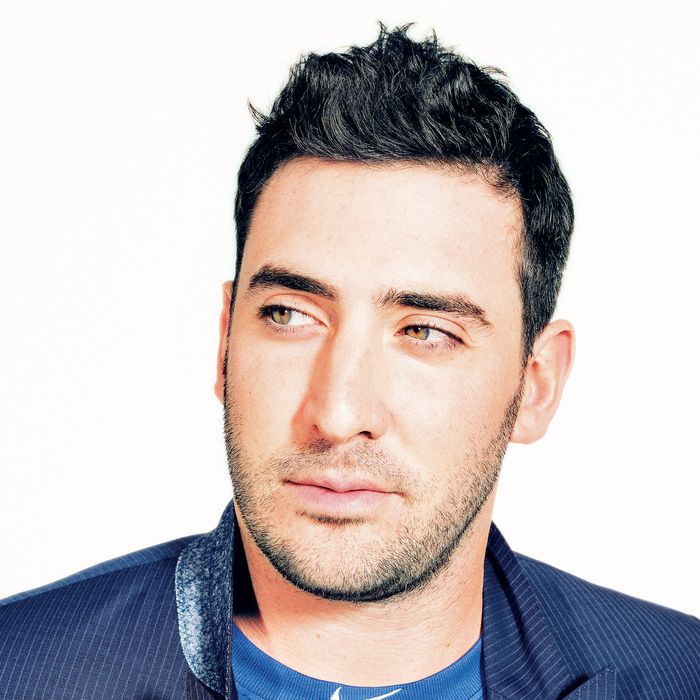 New York Mets pitcher Matt Harvey.
Photo: Christopher Anderson/ Magnum Photos
Ian Schrager wants Matt Harvey's workout advice.
It's a moment of insider New York cross-pollination, an elder luminary of the city's social whirl reaching out across the years and the generations to a virile, rising boldfaced name. Indirectly, anyway. The connection between Schrager and Harvey is made through a pair of scissors held by Larry Raspanti, who is snipping Harvey's thick black hair.
"Ian wants to work out the way the real athletes do it," Raspanti says. "You've heard of Ian?"
Harvey hasn't. Studio 54? Yes, that rings a bell, even with a 25-year-old from small-town Connecticut. Schrager is another Raspanti client. The stylist fills in a bit of his bio: '70s disco impresario turned boutique-hotel mogul. Raspanti, as much human hyperlink as barber, has a subterranean West Village salon, ­Whittemore House, with touches like stenciled walls, an espresso bar, and framed Helmut Newton photos.
Harvey, reclining, his hair still glistening from a vigorous shampooing, wants to be helpful. "I can ask around," he says, "but my trainers are Boras guys and they don't really work with people who aren't pro athletes."
Boras is Scott Boras, baseball's most prominent agent, the guy who represents you when, like Harvey, you have a chance to become the game's next great young pitcher and make nine figures. Harvey has just returned from workouts at Boras's training compound in Newport Beach, California, a finishing touch before the start of the season, when Harvey makes his comeback — which, to Mets fans, borders on a second coming.
Harvey was a major-league meteor in 2013. Eight of his first ten decisions were wins. By midsummer he was leading the National League in strikeouts, and he became only the fifth pitcher ever selected to start the All-Star game less than one year after his big-league debut. For the season Harvey was second best in the major leagues with a minuscule 0.93 WHIP, a stat that measures a pitcher's stinginess giving up walks and hits. And he did it all with style, blowing fastballs past hitters as a snarl curled his mouth.
Harvey had also quickly become a magnetic presence off the field, dating
a Russian supermodel, shooting a segment for Jimmy Fallon's Tonight Show, and being photographed in a silk bathrobe for the Post and naked for ESPN the Magazine. Sports Illustrated splashed Harvey across its cover and dubbed him "The Dark Knight of Gotham." That summer, the woebegone Mets didn't simply matter between the foul lines again — Harvey had made the team sexy for the first time since 1986.
Then the skyrocket crashed: a torn right-elbow ligament in August 2013, followed by reconstructive Tommy John surgery. Harvey's 2014 was a lost season of grueling rehab and bitchy spats with the Mets about when he'd be allowed to pitch again and how much he should be talking to reporters.
Now Harvey's arm is healthy. "And he's got great hair, too," Raspanti says, rubbing in a pomade called Rough Luxury. In two days, Harvey is heading to Florida to start spring training ten days earlier than required because he's so eager to get back into the action. "When's your first regular-season start going to be?" Raspanti asks.
Harvey's expression goes cloudy. "It's in the papers that the Mets said yesterday that they're not going to let me pitch the first six games," he says in a low, annoyed rumble. "Whatever works. As long as I'm pitching in October."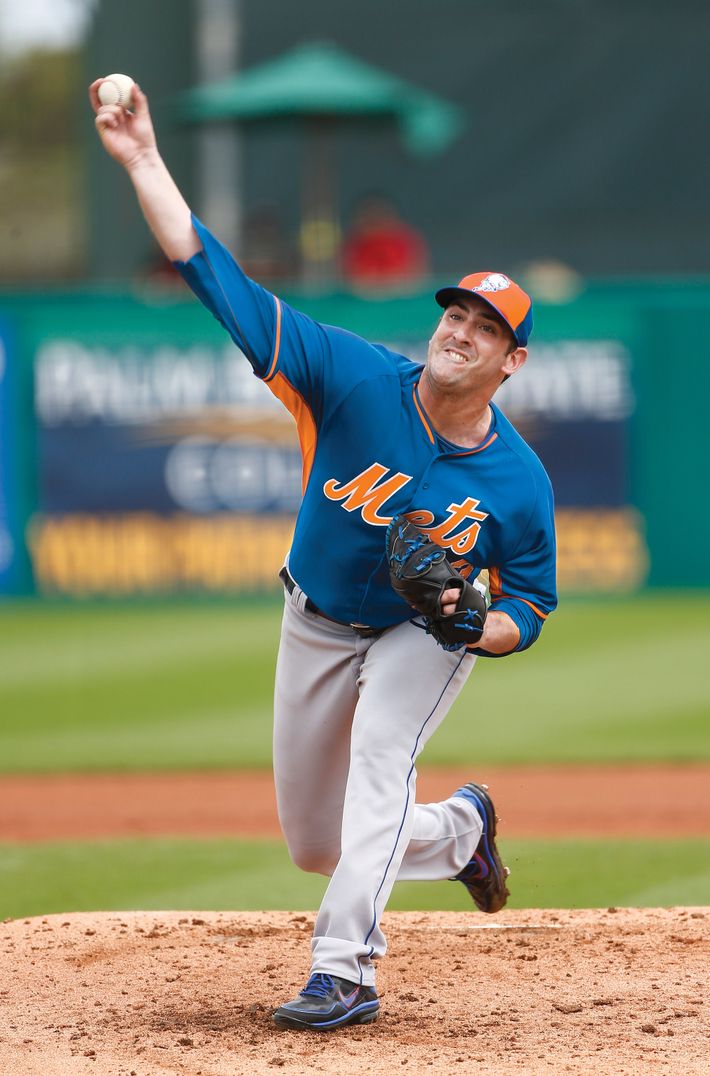 As a pitcher, Matt Harvey can move the ball around the strike zone, change speeds, and keep batters off-balance. But his strength is strength. His fastball cracks the upper-90s and his slider's only a slightly slower. "When I'm out there on the mound, I'm fighting for my teammates, fighting for the ability to stay in the game for a long time," he says. "It's war. I see the hitter, I think about what I want to do, but it's a very quick process. Then I attack. It's almost primal."
Harvey knows one speed — "Balls to the wall," he says. It's both his greatest asset and weakness. Harvey possesses the cockiness that you want in your starting quarter­back, your buzzer-beating three-point shooter. If you're a Mets fan, you love that your ace pitcher is so badass he throws a near no-hitter with blood gushing from his nose.
If you're Mets management, Harvey is a more complicated case. "Matt has always been pushy," a team staffer says. "His first training camp, he was all over the manager — 'I want to make the team. How do I make the team?' There was no way he was gonna make the team. But he kept pushing."
Last year, post-surgery, the Mets tried to protect Harvey from himself, physically, and this year the tension will resume. The franchise has also struggled to figure out how to handle Harvey's attraction to the spotlight. Harvey is the Mets' first star who has grown up with Twitter and Instagram, and his online posts have sometimes irritated management. His fondness for women and nightlife quickly conjured overheated comparisons to Joe Namath, the Jets quarterback who in the late '60s set the standard for swinging jock bachelors in the city. Harvey is as at ease knocking down pins at Brooklyn Bowl as he is lounging inside 1 Oak. The gossip pages have claimed he pursued tennis player Eugenie Bouchard and dated models Ashley Haas and Asha Leo.
Harvey's ego is substantial, but his desire for attention isn't driven by simple A-Rod-ian neediness. He has an almost romantic notion of New York stardom and an endearing curiosity about what the city has to offer. Unlike the majority of his teammates, who keep a safe suburban distance, Harvey lives in the city, in a tenth-floor East Village apartment. He walks for hours, exploring neighborhoods and popping into restaurants he hasn't tried.
But becoming a social-media-era experiment in New York sports celebrity, hanging on to his openness and crafting an identity somewhere between reckless Broadway Joe and bland Derek Jeter, might prove harder than lifting the Mets back into the playoffs. "I will never apologize for having a life," he says.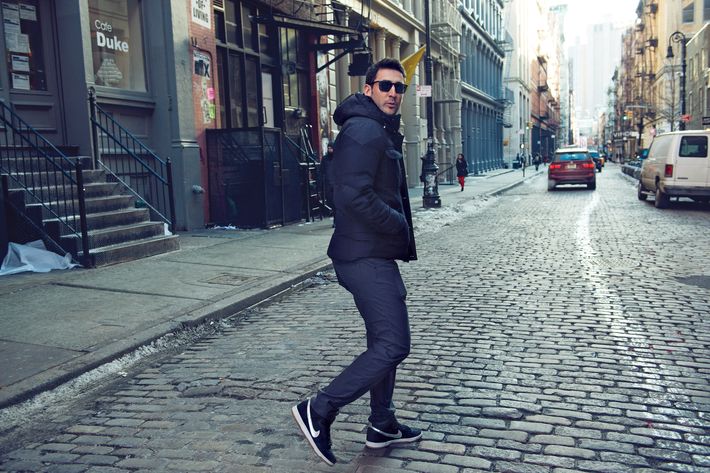 Harvey is a tactile person. He hugs, he backslaps, he makes direct eye contact. In the Mets' locker room one morning, he walks up behind a seated Dillon Gee, reaches over Gee's shoulders, and playfully rubs the other pitcher's pecs. Later Harvey nibbles on Jacob deGrom's shoulder.
In New York, Harvey doesn't walk simply to get from one place to another. He wants to feel the city firsthand. This morning, after his haircut, it's barely 20 degrees and windy. But Harvey skips up the steps from the salon and quickly turns west on Bleecker.
Now he steps across Christopher Street, glancing in the windows of Comptoir des Cotonniers and Jo Malone. "Coming down as a kid, we'd go to Yankee Stadium or Shea, but I never knew where I was going," Harvey says. "It was this massive city that was impossible to maneuver or master. It was a goal as a kid to come to the city at some point in my life and figure out how to get around on my own."
He grew up in Mystic, Connecticut, where the population is just north of 4,000. Harvey is the baby brother to two sisters; his mother, Jackie, teaches elementary school, and his father, Ed, was the head baseball coach at Fitch High School in nearby Groton for 28 years, where he won three state championships, one of them with his son as the star pitcher.
Unlike Bruce Wayne — or even the Mets' previous dark prince, Keith Hernandez — Harvey appears to harbor mercifully few demons. His attraction to New York is fundamentally aspirational.
In the summer, on days when he isn't pitching, Harvey walks. Today, though, his light nylon pants are no match for the knifing chill, and at Hudson Street we surrender and hail a yellow cab. "Look at the coat on that guy!" Harvey says. We're on a cobblestoned street in the Meatpacking District, and a man is strolling past in a full-length white fur coat. "I need a picture!" He raises his phone but the light changes and the cab jounces forward.
Beginning with the haircut, he is cramming in as much New York as possible before heading to Florida. "I need my fix!" he says as he walks through the door of Lure Fishbar, in Soho, for lunch and greets the hostesses with it's-been-too-long hugs. "Is Capon working?" Harvey asks the waitress. His friend Josh Capon, the executive chef, isn't around, but Harvey doesn't need any help ordering. "Six Bluepoints and six East Beach Blondes," he says. "And I'll do two pieces of salmon sashimi, two pieces of toro, two pieces of the mackerel, and can I do yellowtail with jalapeño just on the rice? Nigiri style. Four of those, please."
I hand him today's Post. On the back page is a photo of Harvey's Mets teammate Lucas Duda. SMACK TALK, reads the headline. DUDA: 30-HR SEASON NO FLUKE, PROMISES REPEAT. "That's good," Harvey says. "As a team, we have a lot of confidence going into this year." Days later, though, came the classically Mets punch line: Duda, in an excess of enthusiasm, had been swinging the bat so much he strained a rib-cage muscle. He would need to be shut down for nearly a month.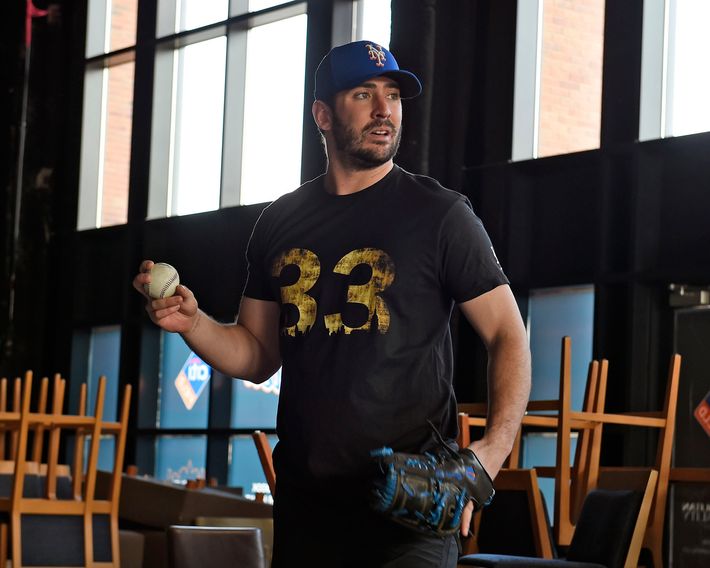 The team's owners, father and son Fred and Jeff Wilpon, along with Fred's brother-in-law, Saul Katz, were major investors with Bernie Madoff, and the ballclub has been collateral damage from the debacle, with six straight losing seasons and a suppressed payroll. The franchise also finds ways to appear small-time — like this winter, when some players had to pay a strength coach affiliated with the Mets for private workouts held at the team's Florida complex. The team's management recently had Citi Field's fences moved further in, calculating that it would help hitters without making Harvey's job more difficult.
"I hope they're right," I tell Harvey. "Me too," he says with a laugh. His return makes him the leader of a staff that in­cludes deGrom, who was 2014 National League Rookie of the Year. But the teams's rebuilding strategy remains high-risk, held together by a collection of elbow tissues.
Harvey, at six-four and 230 pounds, is a power pitcher. His understanding of the game, and of himself, is fairly cerebral, though. "In high school, in college, in the minors, I was always wondering what I had to do to get there, what it took. Once I was there — once I was here — it was, 'Okay, now I can pitch, now I can play. I don't need to show anybody anything other than getting the guy out who is trying to make his money off of me.' "
He isn't about to dial down anything on the field, even after ripping up his elbow and losing a year. And while he's no club-trashing lout, his off-the-field philosophy is grounded in a similar fully committed passion. "You put everything you can into it," he says. "That's the way that you live. That's the way that you are."
Several years ago, a beloved aunt, dying of brain cancer, wrote a cryptic note before entering the hospital. Harvey got the lines tattooed on his chest. "We don't really know what the words mean. My one cousin thinks it's lyrics from a song," he says quietly. "The tattoo says, 'Ain't it a shame that a body can't be where the heart is.' For me, that meant her heart was always with us, her family, and that her body just wasn't letting her be there." He pauses. "It's obviously not as extreme a situation, but missing a whole season … I put my heart into playing, and pitching. My ulnar collateral ligament wasn't letting me do that."
Being unable to compete and be part of a team was wrenching. So Harvey asked to do his rehab in New York and make road trips with the Mets. Management, seemingly worried that Harvey would get into trouble in the city, argued he should rehab like everybody else, in Florida. Harvey consulted with David Wright, the Mets captain, and struck a compromise with the front office — he'd recuperate in New York when the team was in town.
This winter, Harvey would drive out to Citi Field, and his adrenaline would rush as the empty stadium "just kind of appeared" out of the tangle of Queens highway ramps. He'd snap a weighted vest over his torso and run through the stadium's upper deck, with the wind howling from out over La Guardia.
"I like to dominate 100 percent," Harvey says, his eyes wide, his mind moving ahead to summer, when his starts will fill the ballpark again. "I don't want to just beat you — I want to wear you down."
After lunch, Harvey bounds back up the stairs to Mercer Street. He's moving fast down Spring Street when he spots a skeleton outside the store Evolution. Harvey grabs the bony left wrist and points. "This is where they took out ligaments to repair my elbow," he says.
Then it's into one of Harvey's favorite clothing stores, John Varvatos. Downstairs, he searches out Gerard Mayorga, the salesman who's helped Harvey select a dozen suits — well, maybe more, Harvey says, he's lost count. Harvey yearns to make best-dressed lists just like his friend Rangers goalie Henrik Lundqvist. He strokes a leather jacket, ogles a medium-gray window­pane suit. But he resists, for once.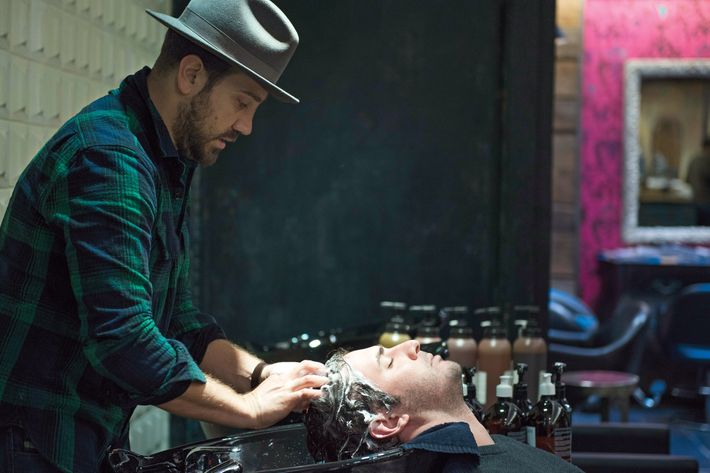 It was an impulsive expression of joy, the kind of thing Twitter users lob into the social-media ether every day. "Nothing better than blasting music, relaxing overlooking the most amazing blue water by yourself in Thailand. Happiness." But because the sentiment came from @MattHarvey33, it brought out a troll, a guy with a Yankees logo as his avatar: "Accomplish something before acting like u have accomplished everything. Be a little humble. Is THAT a problem?" Most public figures would have ignored the nastiness. Not Harvey. "I actually just did my rehab and could still probably throw better than you," he replied in January 2014. "I am quite happy and will enjoy rehab, life and getting back to beating the Yankees. Which I have done."
Harvey's tweets sounded refreshingly like those of any other 25-year-old. Which he now regrets, because the exchange made the newspapers. His tweets have since become sporadic and innocuous. "At first, I might have put things out there too much," Harvey says. "For me, the way I was raised, if there was ever an issue, it was always talked about." He is Irish on his father's side and Italian on his ­mother's. "Yeah, it's a dangerous combination," Harvey says with a laugh. "But being too honest about some things is what I'm learning to shy away from. A little bit."
Ironically, it's Derek Jeter, who perfected the art of saying nothing memorable into a microphone, who has counseled Harvey to keep doing what he's doing. Harvey grew up a Yankees fan. Now, after signing on with Jeter's web venture the Players Tribune, he has business cards that read NEW YORK BUREAU CHIEF. "To have somebody as a kid you looked up to so much give you an open invite to ask him anything — it was extremely kind and generous," Harvey says. "The best advice he's given me is, be myself, have fun, and don't change."
Several of Harvey's closest New York friends are older guys who are not involved in pro sports. They say Harvey is mature beyond his years but couldn't be boring if he tried. Though Harvey has sworn off shirtless photo shoots, he agreed to let ESPN's cameras shoot his recovery for an hourlong documentary. In February, ESPN's Jeremy Schaap asked Harvey how he would celebrate his successful first two innings. Harvey glanced over his shoulder to see if a Mets publicist was listening. She was. Harvey still didn't hold back: "With some Coors Light!"
Harvey's uncomplicated elation and swagger, backed up with All-Star talent, is a rare mix in a Mets uniform, and the organization is still adjusting to Harvey's bravado. The Mets' irrepressible manager, Terry Collins, calls Harvey "a prick," but with a grin, his form of a compliment — Collins adores the right-hander's competitive ferocity.
Sandy Alderson is more clinical. "When someone transcends the sport and becomes a brand in and of himself, he needs to keep in mind what the foundation of that celebrity is," the general manager says. "It's not a fashion line. He's a baseball player. But I think he's smart enough to know that. Matt likes to talk. I don't mean that in a negative way. He likes to talk things through and take time to absorb what he hears and consider advice. We are not interested in changing his personality or his basic qualities. Because he's viewed in a positive way." Alderson says he told a group of season-ticket holders that it was "a possibility" that Harvey might be benched for the first week of the season and that Harvey wasn't blindsided. "I talked to him in the off-season about what I thought the overall plan would be," Alderson says. "He was totally onboard."
The Mets' dealings with Harvey are also complicated by institutional memory — more like an institutional shadow. In the mid-'80s, Dwight Gooden and Darryl Strawberry were supposed to be sure things for the Hall of Fame. Instead, what should have been a run of Mets glory years got derailed by drinking and drugs.
"When I came to the Mets in 1980, the team had been down for a long time, and we said yes to everything to try to sell tickets," says Jay Horwitz, the Met's media-­relations director. "So then Dwight and Darryl come along. I always felt that if I'd said no to more things, maybe it would have turned out differently for those two guys."
That history shaped Horwitz's initial dealings with Harvey. "When Sports Illustrated wanted to do the cover with Matt in 2013, my instinct was to say no. It was too early," Horwitz says. "But Matt said, 'I'm not going to back away from the spotlight.' He wasn't afraid of failure. He's more outgoing than Darryl and Dwight were. Matt is a different breed of cat."
The franchise is collaborating more with Harvey — not only is he now expected to get a start during the first week of the season, but on April 17 the Mets are giving away a Harvey-designed T-shirt at Citi Field. "The people that run baseball would love to control the athlete," says Ron Darling, a pitcher for the rollicking '86 Mets championship team and now a broadcaster for SNY, the Mets' cable channel. "A lot of the stars today kind of handle themselves — they're free agents off the field more than ever in terms of marketing. Matt's a supernova, man. You've got to let him go, let him flourish." A happy Harvey should make for better Mets baseball. It's already been good for Mets business.
The crowd is standing room only, 7,444 strong. Fans stand and scream as Harvey jogs out into the sun and onto the mound in Port St. Lucie, Florida, to throw in a game for the first time in 18 months. He delights the crowd of retirees and spring breakers as well as his own teammates: six Detroit Tigers hitters up, six down, three by strikeout, with two fastballs registering at 99 mph on the radar gun.
After Harvey leaves the mound with a gleeful hop, having struck out his final hitter with a knee-buckling curveball, a clutch of fans in the left-field bleachers under a thatched Tiki Bar roof are giddy, albeit with an undercurrent of fatalism.
The group has gathered around Darren Meenan, the heavily tattooed fan who created the 7 Line, a clever series of indie Mets T-shirts. Meenan is wearing a BELIEVE IN HARVEY shirt today; the pitcher recently ordered a pair of the shirts for his sisters. "I don't want to say it out loud," Eileen Plunkett says. She remembers the flameout of the much-hyped Mets "Generation K" pitchers in the mid-'90s. Plunkett exhales slowly. "But I'm optimistic about these guys." She was right to be wary. One week later, Zack Wheeler became the ninth Mets pitcher in five years to require Tommy John surgery.
Which only puts more weight on Harvey's shoulders. Right where he wants it. "I see the tweets, I see the papers," Harvey tells me. "I see the excitement that fans have, and I want to fulfill that."
He is sitting in the dugout the afternoon following his first start, wearing a blue T-shirt with his personalized bat-winged pitcher logo stretched in orange across his massive chest. The shirt's sleeves have been hacked off, exposing the angry red surgical scar on the inside of his right elbow.
Last winter at about this time, Harvey was on his Southeast Asia vacation, his right arm still in a brace and a sling and his career in limbo as he wandered through Vietnam and Thailand. In Laos, Harvey learned of a local custom — offering Buddhist monks food in the morning as a sign of respect — a humbling experience he'd recently written about for Jeter's website.
Harvey's essay didn't mention any traveling companions. Had he made the journey by himself? Harvey blushes.
"Originally, no," he says, his face reddening. "But I ended up pretty much alone." Anne Vyalitsyna, his girlfriend at the time, had tweeted a photo of herself bidding farewell to Thailand  —  and, apparently, to Harvey. Had he dumped her? Had Harvey proposed and been rejected? Other Mets are filtering into the dugout. Today's game is starting soon. And he's already said too much. 
*This article appears in the March 23, 2015 issue of New York Magazine.