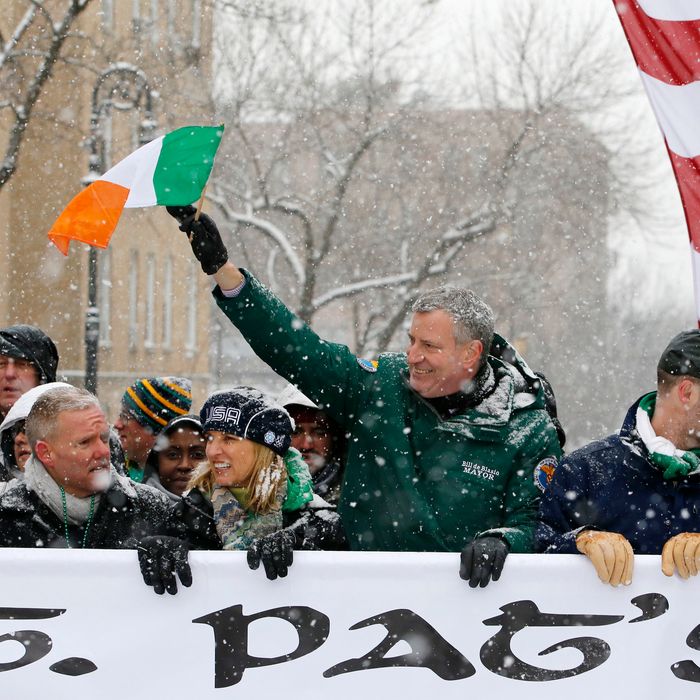 De Blasio marches in the St. Pat's For All parade in Sunnyside, Queens on Sunday.
Photo: Kathy Willens
In September, organizers of the St. Patrick's Day Parade down Fifth Avenue announced that they would finally let a gay group, OUT@NBCUniversal, march in the 2015 parade. Activists say their decades-long battle is about letting Irish LGBT groups march, not "any old gay group," but apparently the organization for gay employees of NBC, the network that broadcasts the parade, is good enough for Guinness. On Friday, parent company Diageo PLC announced that it would resume its sponsorship after dropping out last year. "While there is still work to be done, we are pleased that the parade organizers have taken steps to allow the LGBT community to be represented," Diageo said in a statement.
Mayor Bill de Blasio, however, doesn't give up a boycott that easily. Last year he became the first mayor to skip the Fifth Avenue parade in two decades, and while marching in the snowy St. Pat's For All Parade in Sunnyside, Queens, on Sunday, he said the larger parade still needs to do more to welcome gay groups. "A lot of people feel, I think rightfully, that that is too small a change to merit a lot of us participating who have wanted to see an inclusive parade," de Blasio said, according to the New York Times. "Even though it is a statement of some progress that this NBC delegation has been included, we need something more to really feel like we have turned a corner."
The mayor said he's "not ready to commit to marching," under those conditions, but will keep talking with parade organizers. "There's still time, and we look forward to, you know, some additional discussion, and, certainly, I welcome any discussions with anyone who wants to try and make it more inclusive. But organizers are probably less concerned about the mayor's absence now that Ireland's biggest beer is back on board.
This post has been updated throughout.