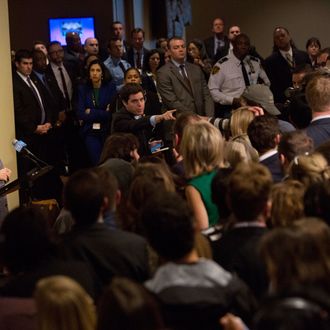 Photo: Victor J. Blue/Bloomberg via Getty Images
On Wednesday, the Associated Press announced that they were going to sue the State Department. Although many reporters had only begun to investigate former secretary of State Hillary Clinton's emails in earnest after the revelations about her private email server, the AP and several other news organizations have been waiting to hear back on FOIA requests concerning Clinton's tenure for years. One request was filed in March 2010. 
"After careful deliberation and exhausting our other options," the AP's general counsel said, "The Associated Press is taking the necessary legal steps to gain access to these important documents, which will shed light on actions by the State Department and former Secretary Clinton, a presumptive 2016 presidential candidate, during some of the most significant issues of our time."
The swarm of interest around Hillary's personal email address, at least in D.C., has given those who've been looking for data on other issues related to Clinton's time at the State Department the perfect moment to complain about their lack of success. You can't be on the campaign trail for more than two decades without having your origin story and early career thoroughly dissected, so the biggest unknowns in Hillary Clinton's life pertain to what she has done since the last time she had to deal with election reporters in 2008: her tenure at the State Department and her work at the Clinton Foundation. While Clinton's team has championed the transparency around both these periods of Clinton's career, the press has not been so willing to agree. 
Besides waiting for Clinton's email correspondence, the AP has also filed FOIAs pertaining to the "full schedules and calendars from [Clinton's] four years as secretary of state … documents related to Clinton's and the agency's roles in the Osama bin Laden raid and National Security Agency surveillance practices; and documents related to her role overseeing a major Defense Department contractor" that have yet to be answered. Now, with all these eyes on the State Department, officials will likely feel pressured into serving this information up with Hillary's emails in a big transparency buffet, as reporters and other political groups call more and more attention to the glacial pace of FOIAs. 
The Center for Effective Government also perfectly timed a release of its complaints with the State Department. The watchdog group grades federal agencies' FOIA request performance every year, and released their latest data on the same day that Clinton gave her press conference on her email usage. The State Department came in last place with a 37 percent rating for 2013, and also received an F during the last year of Clinton's time there in 2012.