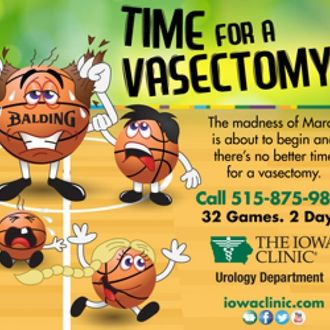 Men who are done having children and also want to watch basketball for a month straight have figured out a convenient way to kill two birds with one stone: get vasectomies during March, so their recovery time coincides with the annual NCAA tournament. Score?
"The first round of the NCAA tournament represents that perfect three or four days that you need for recovery after a vasectomy," urologist Dr. Brad told the Iowa Gazette. "We don't want them to be doing too much physical activity after surgery."
This is, apparently, a real thing. One New York editor confirmed that two of his friends got vasectomies during March Madness after learning the local clinic was offering a two-for-one special pegged to the tournament. A urology specialist in New Orleans is also offering a deal. There are even TV commercials encouraging people to do it:
Data also supports the trend. HealthSparq, a health-care shopping tool, found searches for vasectomies are up in the first quarter of the year, due to "the national trend of Vas Madness, where men (and equally their wives) search for urologists in January in an effort to time the procedure for the March Madness college basketball tournament."
Now we await the inevitable stories about women getting their tubes tied during Keeping Up With the Kardashians marathons.