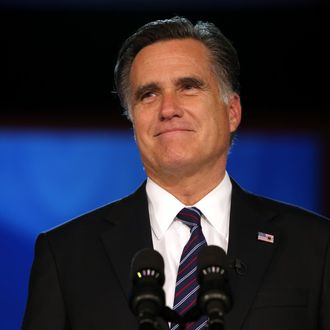 Mitt Romney.
Photo: Justin Sullivan/2012 Getty Images
Today in news no one saw coming, Mitt Romney plans to step into the ring with former heavyweight boxing champion Evander Holyfield on May 15 in Salt Lake City. Thankfully, Romney is not getting involved in the shady world of celebrity boxing. The fight is part of a fund-raiser for Charity Vision, which helps local doctors perform eye surgeries in poor areas around the world. "It will either be a very short fight, or I will be knocked unconscious," Romney told the Salt Lake Tribune. "It won't be much of a fight. We'll both suit up and get in the ring and spar around a little bit." 
The former governor said the event will also feature "bouts between real, active professional prize fighters" and a black-tie reception. "We just thought it would be a lot better to provide this kind of entertainment rather than just have dinner and listen to speakers," Romney said. Why couldn't he have come to this realization three years ago? Obama likes engaging in sport.