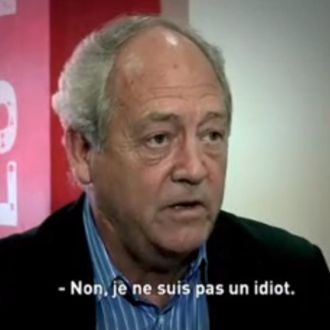 A well-regarded research team recently announced that glyphosate, the chemical used in the Monsanto-produced weed-killer Roundup, is likely carcinogenic to humans. But during an interview with French news channel Canal+, ecologist Dr. Patrick Moore claimed that Roundup isn't dangerous, and in fact is totally safe to drink.
"You can drink a whole quart of it and it won't hurt you," he claims in the video. That sounds like a challenge.
When the Canal+ reporter hears this, he challenges Moore to drink a glass of Roundup, which they'd happily produce for him.
"You want to drink some?" he asks.
"I'd be happy to, actually," responds Moore. But then … "Not really. But I know it wouldn't hurt me!"
When further pressed on the issue, Moore insists he will not drink a glass of the chemical concoction because "I'm not stupid" and also "I'm not an idiot," while still insisting it "isn't dangerous to humans."
Roundup: Totally safe to drink if you're a stupid idiot.
Update: Initial reports of this story state that Moore is a Monsanto lobbyist, but Monsanto says he is not. Still, don't drink Roundup.