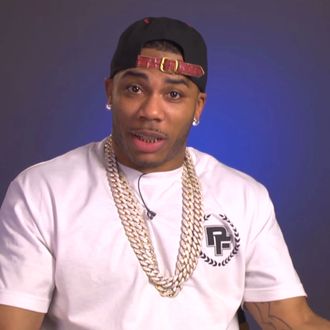 If you've been wondering where the virtuoso of seventh grade homecoming grind anthem "Hot in Herre" has been hiding, the answer is "in the Kurdish region of Iraq." Nelly performed in Erbil on Friday during an annual soccer tournament, according to BuzzFeed News.
The Rwanga Foundation, an NGO dedicated to "assist[ing] the most vulnerable of the populace in Kurdistan, Iraq and in the greater global community," welcomed Nelly to Iraq early Friday by snapping a photo of him with Erbil governor Nawzad Hadi.
Nelly's performance did not appear to be particularly well-attended, but we'll chalk that up to Erbil being war-torn instead of Nelly's waning celebrity.
The concert was reportedly staged to raise money for the peshmerga, but some are questioning Nelly's genuine commitment to the Kurdish cause, saying he was paid handsomely for his performance.
Hey, must be the money.