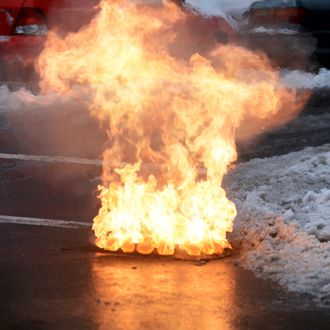 Photo: Todd Maisel/NY Daily News via Getty Images
New York's manhole incidents are officially out of control: There were 600 alone in the first week of February, and the city averages about 2,100 a year. In November, two people were hurt after an explosion in midtown. Last month, a 71-year-old Park Slope man was injured when a manhole cover flew off and hit him in the head. And last night, three firefighters in Brooklyn were injured when more than a dozen manholes exploded across the borough. Time to add "manhole injury" to the list of your worst New York injury fears.
Manhole explosions typically increase during the winter, when salt applied to roads to melt ice can fray cables that lie beneath the city streets, sparking fires, smoking incidents, and blasts. The city would basically have to replace its entire underground wire infrastructure every few years to keep them from happening, a totally impossible project, according to Reuters. In 2014, ConEd started working on implementing a $1.3 billion electrical modernization project that will hopefully decrease the number of incidents.
For now, let us comfort ourselves with the knowledge that exploding manhole season is coming to an end. This weekend, temps will spike to the mid-40s, which at this point will seem positively tropical.