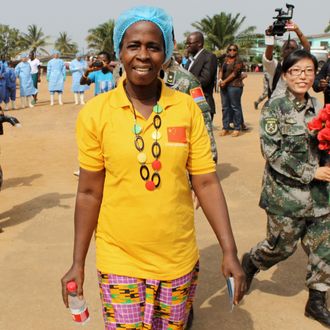 Photo: Zoom Dosso/AFP/Getty Images
Liberians celebrated as Beatrice Yardolo was discharged from the Ebola treatment center in Monrovia on Thursday. She is the last known Ebola patient in the West African country. Yardolo lost three children to Ebola, and has three remaining children.
Deputy health minister Tolbert Nyenswah told the New York Times, "We are still cautioning people. We told them they must still protect their villages, their towns. They should report any suspicion of Ebola to the health teams … But, it's exciting, man."
The country is still monitoring 100 people who may have been exposed to the virus. Liberia has suffered the most from the Ebola epidemic, with a reported 4,117 victims. In Sierra Leone and Guinea, two other countries that have suffered massive losses from the illness, have seen cases rise in the past few weeks. 
In late February, Liberian president Ellen Johnson Sirleaf visited the White House and asked President Obama to continue offering aid to her country despite the dropping number of cases. "We can neither rest, nor lift our foot off the gas. We are determined to get to zero cases by April 15."