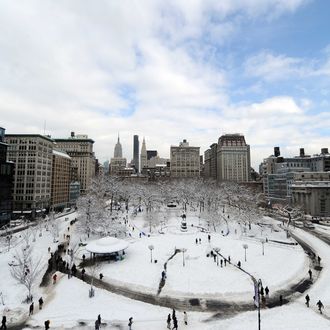 Photo: Andrew Gombert/EPA/Corbis
Tomorrow is the first day of spring, so it's time to break out your flirtiest floral dresses and strappiest sandals! Haha nah, just kidding, put the snowsuit back on 'cuz it's gonna blizzard tomorrow.
The National Weather Service has officially upgraded tomorrow's winter storm from a rain-snow mix of 1 to 3 inches to 3 to 6 inches of good old snow. In New York, there's a winter-weather advisory in effect from 6 a.m. Friday to 2 a.m. Saturday. The heavy snow will start just in time for your morning commute and end just in time for your evening commute.
Guess all that optimism two weeks ago about having made it through the last major snow event of the season was a bunch of BS.