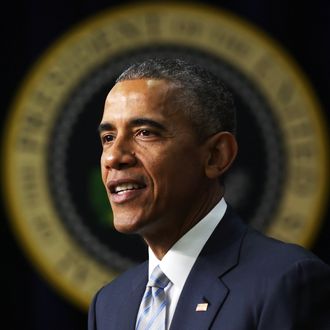 Photo: Alex Wong/Getty Images
President Barack Obama commuted 22 drug sentences today, bringing the total he has given over his six years in office to 43. Eight of the inmates were serving life in prison. The sentences will expire on July 28, 2015. 
The White House announced a new clemency initiative last year that would fast track commutations and pardons for people who have already spent 10 years in prison, partly in response to the fact that the long sentences given to these offenders are no longer doled out today. "These older, stringent punishments that are out of line with sentences imposed under today's laws erode people's confidence in our criminal justice system," Deputy Attorney General James M. Cole said when announcing the initiative. The Justice Department said at this time last year that more than 23,000 people were serving sentences longer than ten years. 
Obama sent a letter to each of those given commuted sentences, something he has never done before. "I believe in your ability to prove the doubters wrong," the letter ends. "So good luck, and Godspeed." One of the prisoners whose sentence was commuted today was serving life in prison for selling pot in 2002, according to a list obtained by the Huffington Post. Many others had sold cocaine or meth.
Before today, Obama had commuted 21 people during his entire presidency. Sixty-four people received pardons. The White House has received thousands of clemency applications. The White House's statement on the 22 commutations makes sure to note that "President George W. Bush commuted 11 sentences in his eight years in office."
The Washington Post reported in February that the Justice Department had received clemency applications from 16 percent of the country's federal prison population after the initiative was announced. Politico reported in January that the process of screening all these applications has been slow, which is why so few people have been pardoned despite the new focus.
Prison reform has seen some bipartisan attention this year, with a conference that featured the Koch brothers and Van Jones, and several bills in Congress co-sponsored by Democrats and Republicans.