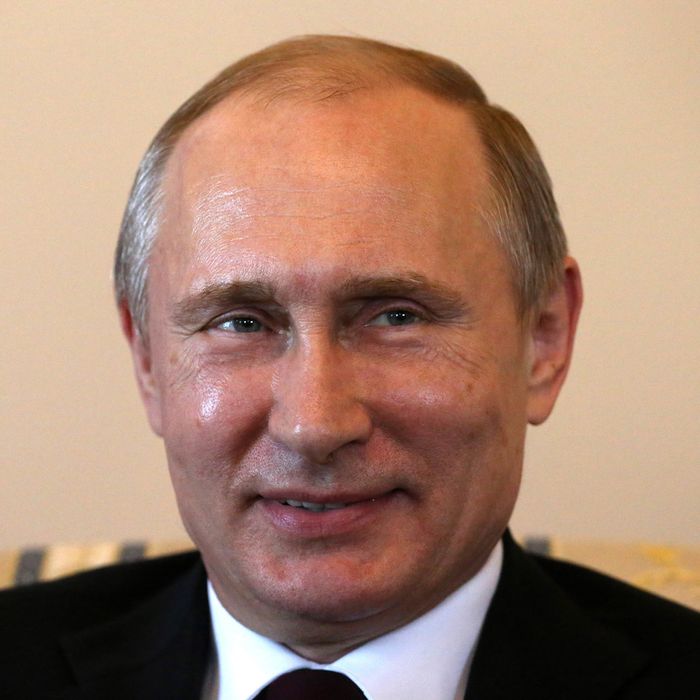 Hey.
Photo: Sasha Mordovets/Getty Images
After disappearing for ten days, Vladimir Putin reappeared without explanation on Monday in St. Petersburg, where he was found meeting with Kyrgyz president Almazbek Atambayev. When the press inquired into his recent activities, he simply said, grinning, "It's boring without gossip."
The Russian president was last seen on March 5, and the world, never prone to hyperbolic reactions to unexpected news events, soberly speculated that he might be dead or at a Switzerland hospital visiting a lover — and a new baby Putin. Putin drove Atambayev around the palace himself on Monday, since official statements noting that he was spending his time away from the spotlight giving hand-breaking handshakes were not enough to stop people from assuming the worst. Kremlin spokesperson Dmitry Peskov denied all the rumors and told a Russian news agency, "I am going to ask people who have money to organize a contest on the best media rumor."
Shortly before returning from his mysterious shroud of secrecy, Putin ordered nearly 40,000 troops to be put on alert in the freezing cold of northern Russia. 
If Putin has been reading the coverage of his disappearance — and that seems likely, based on the many smirks Putin wore in his first public appearance in days — he would have been delighted by the many offhand statements of his Putin-ness. CNN wondered on Friday, "Does Putin ever catch a cold? Does he ever get sick? The Kremlin doesn't want to allow Putin's image of virility and strength to become tarnished by the weaknesses of mere humans," while the Washington Post noted that "manly men don't get sick." The International Business Times called him the "seemingly invincible iron man of Russia."
Until next time Putin's disappearance causes a crisis in Russia and sends the fertile minds of the internet into a frenzied spree of speculation, this has been Putin Watch.