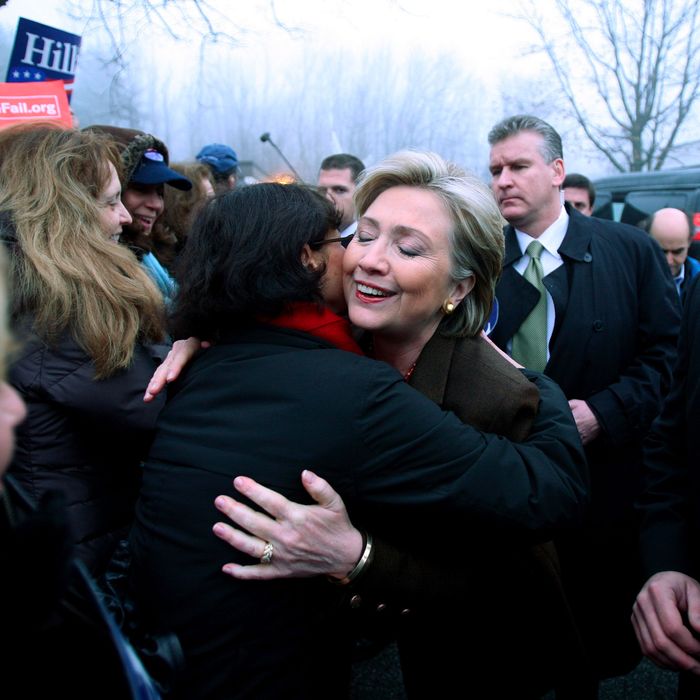 Chappaqua's Hillary Clinton hugs a Chappaqua resident in Chappaqua.
Photo: Michael Nagle/epa/Corbis
Since 2012, the Chappaqua Daily Voice has published more than 100 stories about Hillary Clinton. The articles, many of which feature a headline proudly announcing that you are about to read about "Chappaqua's Hillary Clinton," provide an alternate history of the former secretary of State's career. What if Clinton's life were not something worth prodding and poking in the national press, filled with secrets and unknowns that might ultimately influence the course of American politics? What if the highest acclaim that Clinton could achieve is being bragged about in the produce aisle of a grocery store in Westchester as a local girl who's done good for herself?
If your only source of information about the 2016 presidential race were this hyperlocal news website, one of a few dozen Daily Voice offshoots in Westchester County and Connecticut whose "target reader is 'the Main Street mom,'" fuzzy feelings of neighborhood pride are the recurring theme for all the aggregated stories about the Democratic front-runner.
For the Chappaqua Daily Voice, the only reason they cover national politics is if there is a "strong local angle," according to managing editor Joe Lombardi. "We don't write about President Obama unless he's attending a wedding in Westchester — like he did last year."
And they don't cover the Clintons unless the story concerns Chappaqua — although some other stories are just too juicy to ignore, like the revelation from earlier this week about the shadowy blue dress hidden in the background of President Clinton's presidential portrait.
This limited lens lends the little coverage that the Clintons get on this website a mostly positive aura, but this week's personal email address controversy marks a rare case in which the Daily Voice has delved into covering a national political scandal. "Locals might not care about her position on ISIS," Lombardi says, but a story about a secretive email server in the neighborhood, on the other hand, is a matter of local concern. 
In theory, anyway. "To be honest," Lombardi says, "there is a lot more interest in a story about a snowstorm or about traffic than about the Clintons. They aren't among our most read stories."

Daily Voice reporters have pondered how to cover the 2016 presidential election, and are watching to see whether the still-hypothetical Clinton campaign is considering setting up shop in one of the empty Borders bookstores in nearby Mount Kisco or White Plains. As Lombardi says, "My goodness, that would be a strong local angle."
Here is a brief and strange tour of the greatest hits of Hillary Clinton as she considers a presidential run, as determined by the Chappaqua Daily Voice. The strong local angle of these stories is often limited to a brief mention of the fact that Clinton is from Chappaqua.

April 2, 2012: "Bill Clinton: I Miss Hillary in Chappaqua"
"Former President Bill Clinton would love nothing more than to see his Secretary of State wife Hillary Clinton return to their home in Chappaqua." 
April 9, 2012: "Texting Image of Chappaqua's Clinton Goes Viral"
"Images of Secretary of the State Hillary Clinton, a Chappaqua resident, have gone viral in the form of an Internet meme on Tumblr called 'Texts from Hillary.'"
April 18, 2012: "Chappaqua's Hillary Clinton Among Time's Most Influential"
"The appearance marks the Chappaqua resident's seventh time on the list since 2004, tying President Barack Obama for second-most selections overall."
March 7, 2013: "Quinnipiac Poll: Chappaqua's Hillary Clinton Would Beat Republicans"
March 18, 2013: "Chappaqua's Hillary Clinton Backs Gay Marriage"
"Former Secretary of State and Chappaqua resident Hillary Clinton announced her support for same-sex marriage Monday in a video released by a human rights advocacy group."
March 3, 2014: "Chappaqua's Bill Clinton Will Be Both Good And Bad For Hillary If She Runs"
"Chappaqua's Hillary Clinton remains mum on a possible presidential run in 2016 despite being the clear Democratic favorite, but if she does run, her husband will be a factor in the race, for better or worse, according to Buffalo News Columnist Douglas Turner."
April 7, 2014: "Chappaqua's Hillary Clinton Has Impact On Other Presidential Hopefuls"
April 10, 2014: "Chappaqua's Hillary Clinton Dodges Shoe Thrown At Her In Las Vegas"
"Chappaqua's Hillary Clinton was quick with a quip after dodging a shoe that a woman threw at her shortly after she started delivering a speech in Las Vegas on Thursday night."
May 30, 2014: "Chappaqua's Hillary Clinton Has 'Informal' Lunch With Obama"
September 16, 2014: "Debate Stirs As Chappaqua's Hillary Clinton Returns To Iowa"
"Chappaqua's Hillary Clinton returned to Iowa for the first time since finishing third in the states caucus seven years ago, and gave hints that she's strongly considering another run at the Oval Office, according to The Wall Street Journal."
December 17, 2014: "Schumer Expects Chappaqua's Hillary Clinton To Win Big"
"Demorcratic New York U.S. Sen. Chuck Schumer believes Chappaqua's Hillary Clinton will decide to run for president in 2016, according to The Hill."
December 31, 2014: "Chappaqua's Hillary Clinton Gets Nod As 'New Year's Date Of Choice'"
"Chappaqua resident and potential 2016 presidential candidate Hillary Clinton is the political figure most registered voters in New York would want to ring in the new year with, according to a Quinnipiac University poll."
February 3, 2015: "Chappaqua's Clinton Appears Likely To Join 2016 Presidential Race"
"Two potential presidential candidates in 2016 have ties to Westchester."
February 11, 2015: "Chappaqua's Hillary Clinton Has Been 'In Hiding,' RNC Says"
"The Republican National Committee has declared former First Lady and Secretary of State Hillary Clinton, who lives in Chappaqua, to be 'in hiding,' The Weekly Standard reported."
March 4, 2015: "Hillary Clinton's Private Email Server Traced To Chappaqua Home"
"Lohud reports that the server that transmitted Clinton's emails were traced back to an Internet service registered to her Chappaqua home."