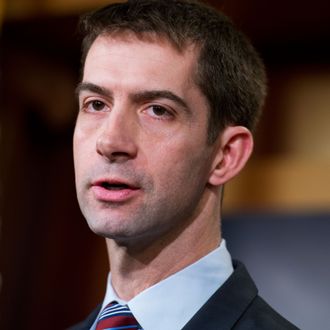 Sen. Tom Cotton, R-Ark.
Photo: Tom Williams/CQ-Roll Call
Many people in the United States and Iran have already announced that they are very angry about the letter 47 Republican senators wrote to Iran about pending nuclear agreement negotiations. Obama added his statement to the growing pile of disappointment on Friday, saying he was "embarrassed for them." Other countries working on this agreement — including Britain, China, France, Germany, and Russia — apparently feeling left out, joined in this week. "Suddenly, Iran can say to us: 'Are your proposals actually trustworthy,'" asked German Foreign Minister Frank-Walter Steinmeier during a speech in D.C., "if 47 senators say that no matter what the government agrees to, we can subsequently take it off the table?'"
He also said that negotiations "would have been difficult enough without the letter of the 47. Now it has become somewhat more difficult."
British Foreign Secretary Philip Hammond told the House of Commons earlier this week that the letter "could become a spanner in the works" (spanner means wrench). The French ambassador to the United States tweeted out a link to a story about the letter with this snippet of commentary, "For a foreigner, Washington can be full of surprise."
Much more of the chatter from Europe, however, has come from diplomats who chose to remain nameless, given the intense up-in-the-airness of the negotiations. One senior diplomat from France told the Associated Press that the letter was especially unfortunate given that the United States was leading the process. A Western diplomat told Reuters, "It's 100 percent an American issue, but obviously it could become a real problem."
Meanwhile, the U.N. Security Council has begun to discuss whether it might lift sanctions on Iran if a deal on nuclear weapons were reached. One diplomat told Reuters, "There is an interesting question about whether, if the Security Council endorses the deal, that stops Congress undermining the deal." The White House said today that they assume the Security Council will endorse any deal that is agreed upon before the June 30 deadline. 
Most of the senators who signed the letter are staying strong despite the criticism. Senators Ted Cruz and John McCain compared the current moment to the beginning of World War II. "The foreign minister of Germany is the same guy that refuses, in his government," McCain told the Washington Post, "to enact any restrictions on the behavior of Vladimir Putin, who is slaughtering Ukrainians as we speak. He has no credibility." McCain went on to say that Steinmeier "is in the Neville Chamberlain school of diplomacy." Cruz told Hugh Hewitt, "I believe we are hearing echoes of history. I believe we are at a moment like Munich in 1938. And indeed, Prime Minister Netanyahu's address to Congress last week was Churchillian in its clarity and moral gravity." 
In Arkansas, the state that the Iran letter's writer, Senator Tom Cotton, calls home, state legislators are trying to make a law that would allow the freshman lawmaker to run for president or vice-president while campaigning for reelection. "I talked to Tom about it and he didn't wave me off," said the bill's sponsor. "He certainly likes having options."