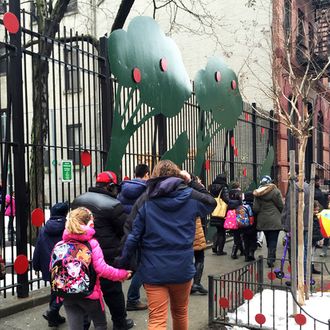 In New York, where schooling is a competitive blood sport, parents will not abide frivolous experimentation with the status quo.  At P.S. 116 in Kips Bay, teachers have stopped assigning take-home worksheets, instead encouraging kids to do dumb, unimportant stuff like "play" and "spend quality time with your parents." You think these kids are really gonna get into Stuyvesant with an application that just says, "After-school activities: enjoy my family's company"?
Some of the parents of P.S. 116's students are simply not having this hippie approach to learning, and have started assigning their own homework, just to show their kids what's really important in life: knowing which rectangle has the greatest perimeter, and obeying authoritarian rule.
"This is their time to learn now, when they have good memory," one parent told DNAinfo. "I give him extra work, though. I go to Barnes & Nobles and give him my own homework."
Kid, if you don't make it into one of the good specialized schools after that, you should probably just give up and become a garbageman.