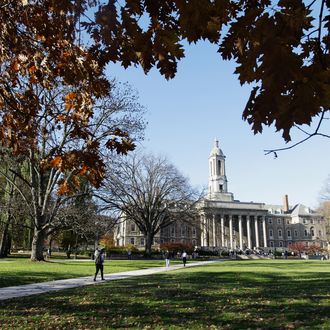 Photo: Rob Carr/Getty Images
While the nation is still talking about the University of Oklahoma frat caught singing a racist song, Penn State's chapter of Kappa Delta Rho would like to remind everyone that fraternities can be disgustingly misogynistic too. WJAC reports that the chapter has been suspended after police said they found a secret Facebook group where members posted photos of mostly nude women, who were apparently photographed without their consent. "It appears they were passed out or sleeping," said Lt. Keith Robb of the State College police.
According to a search warrant, police got a tip about two Facebook pages operated by Kappa Delta Rho, where the brothers allegedly posted photos of hazing and drug sales in addition to the nude pics. One page, called "Covert Business Transactions," was shut down by the time the police got the warrant, but the page "2.0" was still up. The computers and pages police searched had been wiped, but they obtained about 20 photos for evidence when the site was first discovered.
"In response to the discovery of the two Facebook pages allegedly hosted by Kappa Delta Rho, the chapter was immediately placed on full chapter suspension," Penn State's Interfraternity Council said in a statement. "Upon completion of all investigation into this matter, Kappa Delta Rho will be summoned by the IFC to undergo a conduct review session."
The pages were allegedly used by 150 members, including current students and alumni, but someone will undoubtedly blame "a few bad apples."