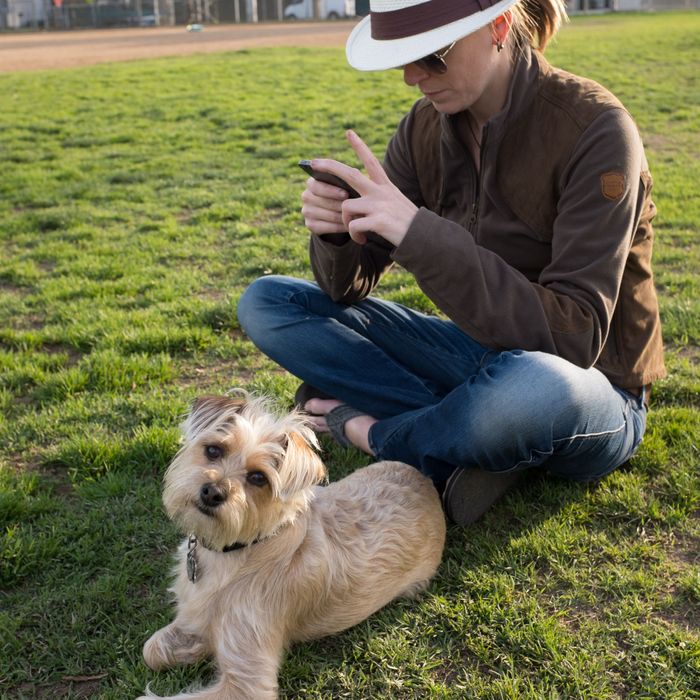 A woman and her dog at a park in Los Angeles.
Photo: Amanda Edwards/Getty
A Christmas or three ago, it seemed like every good boy and girl got a little rubber wristband in their stocking. These were fitness wearables, like the FitBit, the Nike FuelBand, and the Jawbone Up, that tracked your workouts and encouraged you to get up and move. They became as ubiquitous as those yellow LiveStrong bands and slap bracelets before them, and then just as quickly, they disappeared, relegated to so many nightstands and forgotten at the bottom of so many purses. Our smartphones, it turns out, were just as good at measuring our steps, and a lot less clunky too.
But fitness wearables are having something of a second moment, and a fluffier, furrier one at that. In the past few years, a number of fitness trackers for dogs have hit the market — among them the FitBark, the PetPace, the Heyrex, the Tagg, the Tractive Motion, and the Whistle — giving pet owners more information about how much exercise their dogs are getting and nudging them to move more with their pets. Forget the quantified self — 2015 is the year of the quantified dog.
I recently tested out the Whistle on my two-year-old terrier mutts, Calvin and Patsy. It's a half-dollar-size, $99 gizmo that slips onto a collar and connects to a smartphone or a computer. From there, it gives you a wealth of information, on walks, playtime, naps, and on and on. You can also add in photographs, notes, and diet data.
Experience-wise, it's a lot like a Garmin or FitBit. The dogs never seemed to notice when they were wearing their trackers, which synced easily with my phone or my computer. And the details it provided were illuminating — even motivating. Patsy moves more than Calvin, both in the dog park and in the house. (That, along with her hatred of any food that is not expensive cheese or peanut butter, might help to explain her leaner stature.) Both are out and about two hours a day, but on frigid days, wet days, and deadline days, their activity drops precipitously. Dedicated walks and jogs tend to be far better exercise than time at the dog park, where the two seem to do a lot of sniffing, scratching, and barking at passing cyclists. And those little around-the-block bathroom breaks? They add up, but not to much.
This new category of gadget surely helps to keep pet owners informed and dogs healthy. (Stories abound of owners using the devices to find out if their midday dog walkers were really doing their jobs.) The flip side is that any neurosis you might have about your own inactivity, you can now have on behalf of your pet. Should we go out again? Is what we are doing enough? Does exercise in the morning have more benefit than exercise in the evening? Is sitting killing them? Is it killing me?
The idea is to get you to ask those questions, and to help you answer them. "As you look at the flowering of hardware overall, you have very unique needs for pet owners," Ben Jacobs, Whistle's chief executive, told me. "They can't speak for themselves."
Though it seems like a niche market, it's a potentially big one, Jacobs argued, given that half of households have a pet — and given how much we spend on them. Last year, according to the American Pet Products Association, owners shelled out about $58.5 billion on Spot and Kitty. What we might think of as "luxury" pet goods and services — fitness monitors, doggie daycare, pet spas, grain-free dog food, essential oils, and so on — is a particularly fast-growing part of the overall market.
Moreover, pet trackers might be one of the safer corners of the wearable market. Smartphones have quickly and surely replaced or eaten into the market for landlines, tablet computers, calculators, watches, e-readers, mp3 players, GPS devices, and a host of other gadgets. Now they've come for the fitness trackers, whose sales are expected to decline this year.
Given that competitive pressure, you would expect to see differentiation in the wearables market. Some activity monitors might become cheaper, aimed at people who cannot afford iPhones or don't want to risk theirs while working out. Some activity monitors might add features and go upscale, luring consumers willing to pay $1,000 for an ultra-light marathon watch or excellent altimeter for rock climbing. And others might go different, targeting, say, fitness-obsessed dog owners. Nobody in their right mind is going to strap a $750 iPhone to their pooch, after all.
But might you flip open an app to make sure they're getting walked? That their playtimes are as playful as they should be? If you've got Wi-Fi, now you can.